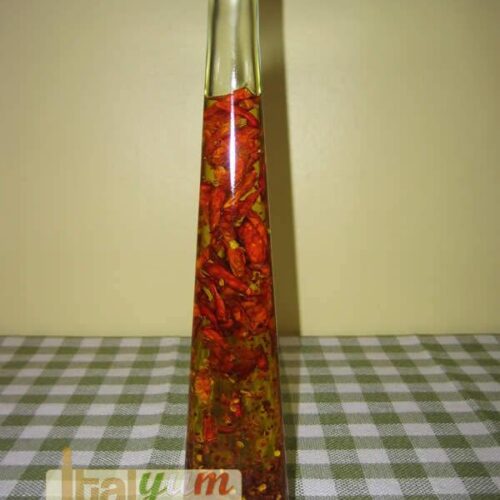 Hot chilli oil recipe
(Olio di peperoncino)
The first time I went in a pizzeria in the UK, I asked if they had some chilli oil to season my pizza. They came with a small bottle of garlic oil! I thought this was very odd: in 35 years of living in Italy I have never been served with garlic oil. We do not use it and a proper pizzeria should know that! What we use is what we call "olio di peperoncino piccante" (hot chilli oil) and here I am giving you the recipe to prepare it for your home, to use anytime on your pizza, bruschetta or even spaghetti if you like.
Nowadays, it is very easy to get crushed and whole dry chilli. You may have a friend in Italy and can have the chilli posted to you or if you have the chance to visit Italy, you can buy it in any town market cheaply. In the UK most of the Italian delis should be able to supply it.
Clicking on equipment pictures takes you to Amazon where you can buy the items. We get a small revenue share of anything you buy which helps keep the site running.
Ingredients
450

ml

(3/4 pint) Extra virgin olive oil (medium quality)

20

grams

(3/4 oz) Crushed dry chilli (possibly from Italy)

Alternatively, use only 30 g (1 ounce) of crushed dry chilli (chilli flakes).

10

grams

(1/3 oz) Whole dry chilli (possibly from Italy)

You can choose to vary these quantities depending on how hot and spicy you like your food.
Instructions
Take a small glass bottle, big enough to contain about 450 ml (1 7/8 cups) olive oil. Prepare the chilli in the quantity described.

Put the chilli into the bottle

Put the chilli into the bottle, forming two layers as shown in the picture.

Fill the bottle with olive oil until nearly the top. Leave about 5 cm (approx. 2") between the oil and the cork.

When the bottle is closed, shake it. Now, put the bottle in a dry, cool and dark place. Once a week give the bottle a shake and after a few weeks, the oil will change to slighlty reddish colour. It could take two or three months to achieve the desirable hotness. Unless you finish the bottle in a month, because you eat pizza every day, the oil can be kept in the bottle for several months (I usually keep it for 8-10 months).