The wind tore at Federico's hands as he gripped the door frame of the plane. Trying to make out some features in the dark, he didn't hesitate. He jumped.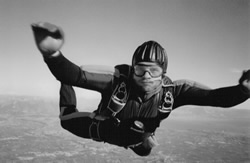 After a few moments of sudden violence, some peace was restored as his canopy opened and he drifted downwards. He wondered what the future would hold after his exit from the elite Italian Paratrooper regiment. One thing was for sure – it was going to be an adventure.
Federico soon found employment with a large engineering firm travelling the length and breath of Italy from Bolzano to Sicily, making deals and signing contracts. His passion for good food meant he always sought out good local restaurants, often taking time to speak to the staff and chef about the regional cuisine.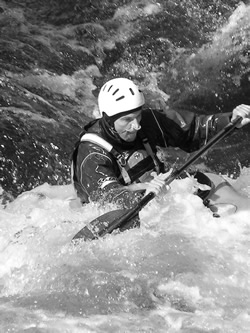 All the while, Federico still hungered for excitement – kayaking Italy's toughest white water in the Alps, and later qualifying as a coach and competing in slalom events.
So his knowledge of the traditions and secrets of great Italian food grew. In 2001 a move to the UK meant his life took another turn. Love, a family and a move to Scotland. Here, as he revelled in the opportunity to cook for Suzanne and his three children, he also completed a culinary qualification, gaining a SGA Professional Cookery Higher.
A chance meeting with Jeremy Webb on a kayaking trip led to the establishment of the Italyum web site in 2005. The mission – to make it easy for people to cook delicious authentic Italian food. Each recipe is the result of Federico's peripatetic experiences in Italy and extensive research. Each one carefully written and then recreated and photographed step-by-step by Federico in his kitchen in Ayrshire.
In the last two years, Federico has been working hard to perfect his artisan bakery and pastry skills, bringing the same attention to detail to this demanding craft.
We hope you love the recipes you find here. It's been an adventure bringing them to you. We love to hear how you get on, to hear your comments and see the great food you make.
Warm regards,
Jeremy & Federico.