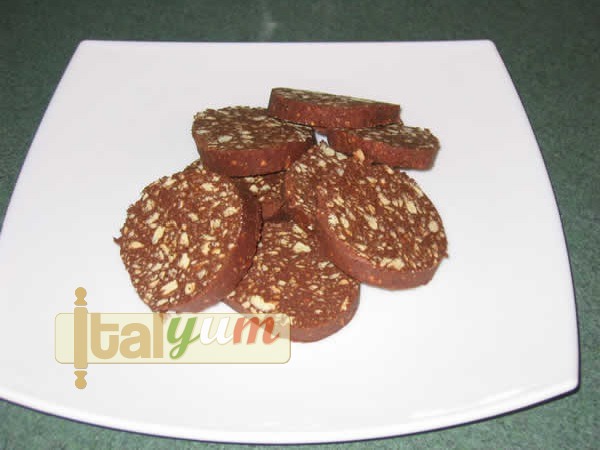 Chocolate salami (Salame di cioccolato)
This dessert is very popular amongst the Italian families and it is usually eaten with coffee, after lunch. It is sometimes served as dessert in trattorias, especially in those rural trattorias you can find along the Po river at the border between Lombardy and Emilia Romagna regions of Italy. There are many variations of the theme, of course, and this is down to the local culinary customs, as always happens in Italy. It's a rustic dessert that probably would never find a place in those fancy restaurants, but it is very good to eat and this is what really matters!
Clicking on equipment pictures takes you to Amazon where you can buy the items. We get a small revenue share of anything you buy which helps keep the site running.
Ingredients
300

grams

(11 oz) Rich tea biscuits

150

grams

(5 oz) Butter (unsalted)

100

grams

(4 oz) Dark chocolate (I have used 85% cocoa)

100

grams

(4 oz) Caster sugar

2

Eggs

This is a dessert containing raw eggs, so be sure you buy fresh, top quality eggs.

30

ml

(1 fl oz) Dark rum

As an option, try adding 40 g (1 1/2 ounces) of citrus peel and double the quantity of rum.
Instructions
Cut the butter into pieces and let it warm to room temperature.

Break the chocolate bar into pieces and put them into a small bowl. Melt the chocolate using the bain Marie method.

While melting the chocolate, stir with a spoon to be sure that there are no lumps. When the chocolate is completely melted, set the bowl aside and let the chocolate cool a little.

Put the biscuits into a large bowl.

Break the biscuits using the back of a spoon; make them into crumbs.

When the butter is soft, work it with an electric whisk for few seconds and then start adding the ingredients as shown next (you can add all these ingredients without stopping to whisk).

Add the melted chocolate.

Add the rum and whisk again for few seconds.

Pour the mixture into the large bowl containing the biscuit crumbs. If using citrus peel, add this now.

With a spoon, work the mixture until all the biscuit crumbs are completely coated with the chocolate mixture.

The result should be a chocolate dough.

Take the dough and make the shape of a salami. Put the chocolate salami onto a layer of cling film and then wrap it with the film.

When wrapping, press the chocolate salami to make it compact. Then seal the sides and put the chocolate salami in the fridge for a couple of hours.

After a couple of hours, you can slice your chocolate salami and serve it with coffee or tea.
Nutrition