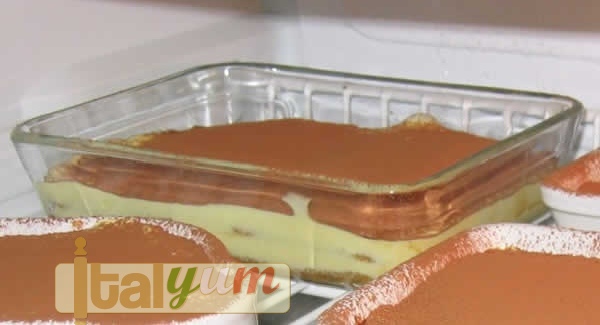 Fast tiramisù 4 four (Tiramisù veloce)
This version of tiramisù is simplier and faster than the classic one (the classic recipe is featured in the dessert section of the website) because we use less ingredients (i.e: no egg whites, no Marsala wine). As the recipe does not contain alcohol, it is particularly suitable for those who are teetotal.
Clicking on equipment pictures takes you to Amazon where you can buy the items. We get a small revenue share of anything you buy which helps keep the site running.
Ingredients
350

grams

(12 oz) Italian mascarpone cheese

100

grams

(3 1/2 oz) Icing sugar

4-5

Egg yolks (medium size eggs – discard the whites)

This is a dessert containing raw eggs, so be sure you buy fresh, top quality eggs.

1

Pack of Pavesini biscuits (for this recipe I used 48 Pavesini)

200

ml

(7 fl oz) Strong espresso coffee (cold) or coffee prepared with a moka

Few drops of vanilla extract

Cocoa powder for dusting
Instructions
Put the egg yolks into a large bowl.

Start beating the egg yolks with a whisk and gradually add all the sugar.

Keep beating until the mixture become pale yellow and thick.

Add few drops of vanilla extract.

Beat for few seconds so that the vanilla extract is evenly distributed.

Now, add the mascarpone to the egg-sugar-vanilla cream and blend together.

Finally, we have the tiramisù cream.

Now, we are ready for assembling our tiramisù. With the ingredients in the list you should be able to prepare 4 little rectangular dishes, about 16 cm x 8 cm (6 1/2" x 3 1/4") – a total of 12 biscuits for each dish.

Dip the biscuits in the coffee, one at a time, for about 5 seconds, and lay the biscuits onto the bottom of the dish.

As you can see from the photograph, I managed to lay 6 Pavesini biscuits in the bottom of the dish. Next, cover the biscuits with the tiramisù cream.

Now, we are ready for the second layer of biscuits.

Dip the biscuits in the coffee and complete the second layer of biscuits.

Spread the final layer of tiramisù cream.

Dust with cocoa powder, then put the tiramisù in the fridge and leave it for about 4 hours before serving it.

Enjoy the feast!
Enjoyed the recipe?
Buy us a glass of wine!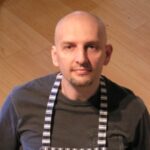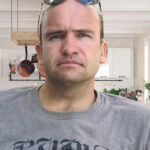 Buon appetito! Thank you from Federico (recipe Maestro) and Jeremy (web Geek).
Nutrition