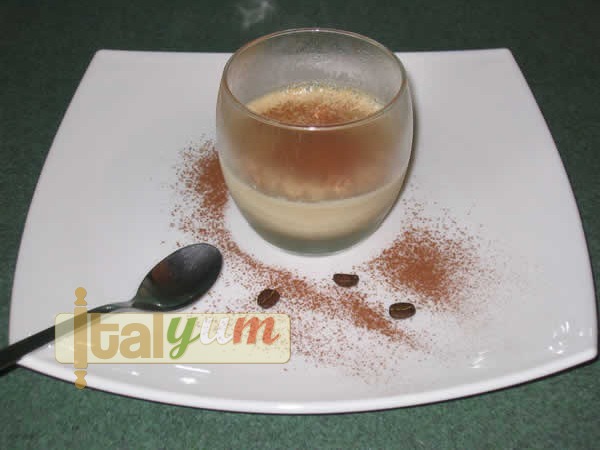 Panna cotta (coffee/vanilla flavoured)
This is one of the classics amongst the "dolci al cucchiaio" (spoon desserts) and there is not much to say about it, except  that it is delicious and very easy to make. There are many versions of panna cotta and the one I am going to present to you is the panna cotta flavoured with coffee and vanilla.
Clicking on equipment pictures takes you to Amazon where you can buy the items. We get a small revenue share of anything you buy which helps keep the site running.
Ingredients
500

ml

(slightly less than a pint) Double cream

A sachet of vanilla extract

The sachet I used contained about 1/2 g of vanilla extract in powder, however you can use vanilla extract in liquid form (just a few drops) or infuse a small vanilla pod.

90

grams

(3 1/2 oz)  Caster sugar

4

grams

(1 tbs) Instant coffee

15

ml

(1/2 fl oz) Dark rum (alternatively use brandy)

4

grams

(2 leaves) Gelatine leaves

Cocoa powder for dusting

A few coffee beans for decoration
Instructions
First, soak the gelatine leaves in a small bowl filled with cold water and set aside.

Next, pour the cream into a small pan and turn the heat on (gentle heat).

Stir gently for a few minutes until the cream gets close to the simmer point (avoid boiling the cream).

If you have a thermometer, check that the cream reaches 90ºC (193ºF) and, at that point, remove the pan from the heat.

The pan has been removed from the heat.

Now, squeeze the gelatine leaves.

Add the gelatine leaves into the pan.

Stir for a couple of minutes or until the gelatine is completely dissolved.

Next, strain the cream into the jug.

Now, pour the cream into the glasses (I usually fill 4 glasses half way) and put the glasses in the fridge for about 4-6 hours so that the panna cotta has time to set.

Finally, when you want to eat your panna cotta, I suggest you dust it with some cocoa powder and that's it.

 

Enjoy it!
Nutrition