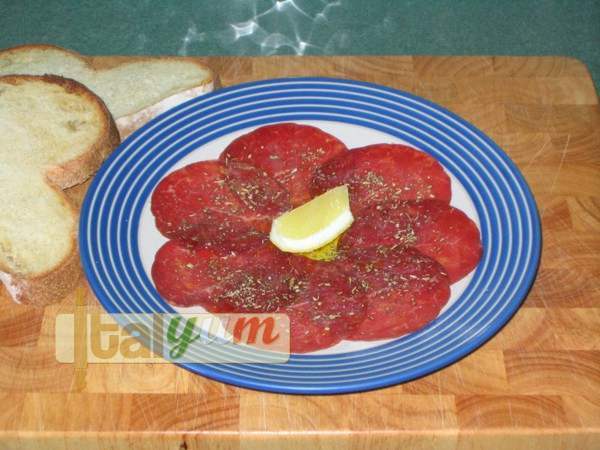 Bresaola with lemon and oregano
Bresaola is a type of air-dried beef from Valtellina, north Italy (Lombardy region). It's made from the top round of beef, it's very lean and ideal for "piatti freddi" (cold preparations). It is also ideal for those who want to taste cured meat without necessarily eating pork meat.
Usually, the bresaola thin slices are eaten with some drops of lemon, olive oil and a pinch of black pepper. Salt is optional, because it is already used during the bresaola curing process and you may not need it.
Here, I am presenting one of the simplest toppings for bresaola; however there are so many different variations on the theme nowadays, that I have lost the count. At the end of the recipe I will give you a couple of extra ideas about different toppings you can use and then it is up to you to decide.  
Clicking on equipment pictures takes you to Amazon where you can buy the items. We get a small revenue share of anything you buy which helps keep the site running.
Ingredients
Bresaola slices (5 to 7 slices per person)

1

Lemon

Extra virgin olive oil

Dry oregano

Ground black pepper

Salt (optional)
Instructions
Lay the bresaola slices on the plate and squeeze one lemon wedge all over the slices.

Sprinkle with dry oregano.

Add some freshly ground black pepper.

Add a bit of salt, but don't exaggerate because the bresaola is already salted.

Finally, have some bread at hand and enjoy it as quick snack.

As I said in the introduction, we can play  a lot with bresaola and make many different variations on the theme. Here, for example, I have wrapped some goat cheese with bresaola and, laid the wraps onto a rocket salad bed. Then drizzle with olive oil and season with ground pepper.

Another idea is to lay the bresaola slices onto the plate, squeeze some lemon and then add rocket salad, Parmesan shavings and sliced button mushrooms. Then, again, drizzle with olive oil and season with ground pepper.
Nutrition