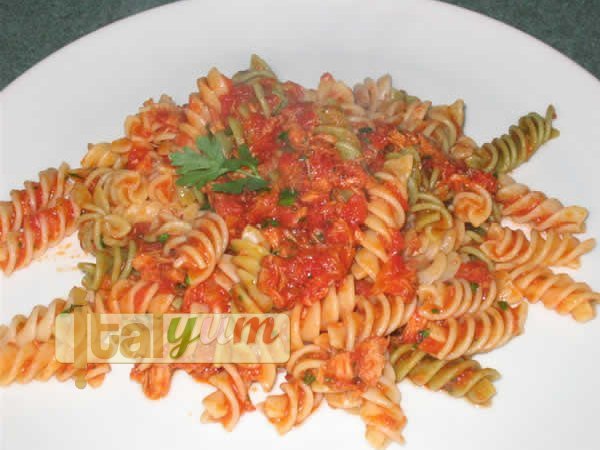 Fusilli with tuna sauce (Fusilli al tonno)
It's quick to prepare and ideal for a summer lunch. Tuna tins are sometimes underestimated, so I strongly recommend always having few tins in your larder; they can come useful for a quick lunch, especially when you have an unexpected guest and you do not have a clue about what to offer for lunch.
Clicking on equipment pictures takes you to Amazon where you can buy the items. We get a small revenue share of anything you buy which helps keep the site running.
Ingredients
400

grams

(14 oz) Fusilli pasta

60

ml

(2 fl oz) Extra virgin olive oil

1

Small shallot (finely chopped)

1

Clove of garlic (crashed)

150

grams

(5 oz) Tuna (1 small can of tuna in olive oil does the job)

400

grams

(14 oz) Can of chopped tomatoes

A small handful of flat leaf parsley (roughly chopped)

Salt and ground pepper for seasoning

Anchovy paste (optional)
Instructions
Put the olive oil in a frying pan (medium heat), crush the garlic clove and sweat it off until golden brown, then discard the garlic.

Immediately, after having removed the garlic, add the chopped shallot and sweat it off until golden brown.

At this stage you have the chance of adding some anchovy paste (1 teaspoon) as an option. If you want to enhance the fishy flavour, do it!

Stir until the anchovy paste is melted and evenly distributed (it's just a matter of seconds).

Then, add the chopped tomatoes.

Stir and try to break the chopped tomatoes in order to make the sauce a bit thinner. Using Italian "passata di pomodoro" would save you time because you do not have to break the chopped tomatoes.

Cook for 5 minutes and then season with salt.

Break the tuna in small parts and stir to evenly distribute.

Now, turn the heat to low and cook for about 10 minutes.

In the last 30 seconds of cooking, add the parsley.

Stir to evenly distribute and turn the heat off.

The sauce is ready to be added to the pasta.

Add the sauce to the drained pasta.

Stir in order to coat the pasta evenly with the sauce.

Serve it and remember, a good glass of chilled white wine is the perfect accompaniment. Buon appetito! 

Note: please, do not use any Parmesan or Pecorino Romano cheese on pasta served with fish sauces. This is the number one rule that unfortunately is often forgotten by some restaurants abroad. In the UK, where I live, I found several restaurants that are known for Italian cooking but apparently their staff is not very well trained…no further comment!
Nutrition