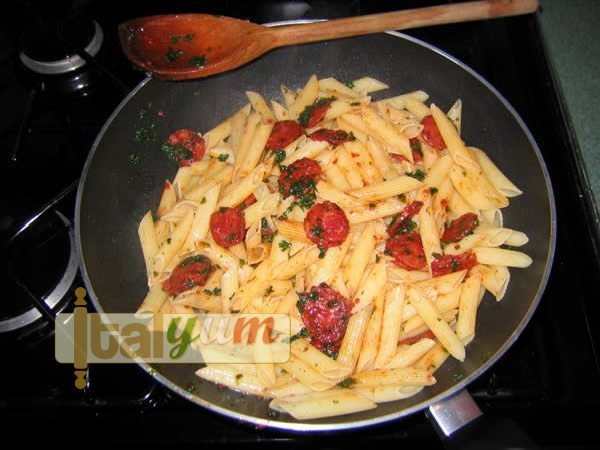 Penne Pasta with spicy sausage (Penne con salsiccia piccante)
"Salsiccia Calabrese" or "soppressata", these are the names to look for when buying the key element of this recipe. Basically, it's a chorizo-like pork meat sausage made in the Calabria region of Italy, but more spicy (because of the chilli) and with some hints of fennel (becuase they add some fennel seeds). Normally, it should be eaten with rustic bread and a glass of red wine, but it can also be used for making a lovely and tasty pasta sauce.
Clicking on equipment pictures takes you to Amazon where you can buy the items. We get a small revenue share of anything you buy which helps keep the site running.
Ingredients
400

grams

(14 oz) Penne rigate pasta

75

ml

 (3 fl oz) Extra virgin olive oil

1

Clove of garlic (sliced)

90

grams

(3 1/2 oz) Spicy Italian sausage 

1

tbsp

Tomato purèe

1

A small handful of parsley (finely chopped)
Instructions
Remove the skin from the sausage and cut the sausage into thin discs, about 2 mm (1/16") thick.

Put the olive oil into a wok (or a deep frying pan) and heat it on a medium-low heat.

Add the garlic and sweat off for few minutes until the garlic become slightly golden.

When slightly golden, remove it.

Now, turn the cooker to low heat and add the sausage discs.

Stir for a couple of minutes.

Give a quick stir in order to melt the tomato purèe in the olive oil.

Stir for 30 seconds and turn the heat off.

When you are draining the pasta, turn the cooker on again and pour the pasta into the wok. 

Stir to coat all the pasta with sauce and serve immediately.
Nutrition