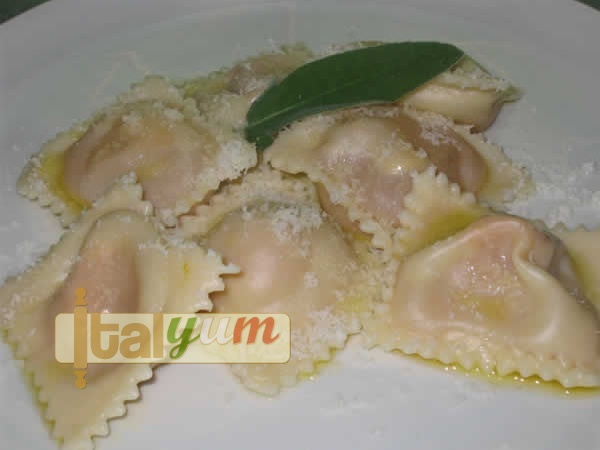 Pumpkin ravioli (Ravioli di zucca)
Being from Lombardy region of Italy myself, I would be wrong if I do not tell you about this classic. This is a dish that has its origin in the city of Mantova, south-east of Lombardy. It's something that locals love, especially in the winter and it also a tradition to eat them on Christmas eve. The pumpkin ravioli ("ravioli di zucca") take its name from the stuffing, which is made of pumpkin pulp mixed with grated Parmesan cheese and other ingredients you can see in the relevant section, where I describe how to make it.
What is interesting here, is the balance between the sweetness of the pumpkin and the salty flavour of the Parmesan cheese. For those that have never come across this dish, I suggest trying it a few times because your mouth need to be "trained" to these kind of flavours, which are quite unusual if you do not come from that area. Cities around Mantova, like Cremona, Reggio-Emilia, Parma, Brescia; they all have their own variation on the theme, but Mantova for me is absolutely the best.
Before publishing this recipe, I visited my relatives in south of Mantova to be sure that everything I tell you is done according to the tradition.
Clicking on equipment pictures takes you to Amazon where you can buy the items. We get a small revenue share of anything you buy which helps keep the site running.
Ingredients
One quantity of pumpkin stuffing

the "pumpkin stuffing" recipe is featured in the top tips of the website. 

Pasta dough using 400 g (14 ounces) of plain flour and 3 medium size eggs

the pasta dough should be a bit more elastic than the one you would prepare for making normal pasta like tagliatelle. Also, a dough aimed to be used for stuffing, usually requires less eggs. Try to make your dough using 400 g (14 ounces) of plain flour, 3 eggs and a bit of water (room temperature). You can make your dough by hand or using a pasta machine, but please do not use any salt or olive oil for your dough – it's not a pizza! and you would upset the traditionalist. Finally, the ravioli (ravioli is the plural word – raviolo is singular) are the easier to make because of their square shape and using the ravioli tray is even easier, but I will show you also how to make the "pumpkin tortelli", which are different in shape (they look like little hats) and are as popular as ravioli.

A big rolling pin to prepare the pasta layer to make ravioli

A 12 section ravioli tray + small wooden rolling pin

A pastry wheel
Instructions
Prepare a pasta layer, large enough to cover the ravioli tray. The layer has to be as thin as possible because if it is too thick, this will affect the cooking time.

Fill the cavities with a small amount of pumpkin stuffing.

If the layer becomes too dry and you are worried that it will not stick to the second layer you are going to put on the top, brush the edges with a wet brush.

Cover with a second pasta layer of the same dimensions starting from one side. When doing this, proceed from side to side keeping your hand down against the ravioli in order to push out as much air as possible.

Finally, pass the small rolling pin over so that the two layers will stick together.

Turn the ravioli tray onto a wooden board or whatever working surface available.

Just a bit of flour onto the working surface and flip your 12 ravioli on it.

Separate the ravioli cutting along the lines created by the ravioli tray.

If you do not have a ravioli tray, you can try the alternative of making "tortelli". Cut your pasta layer in 6×6 cm (2 1/2"x2 1/2") squares. Then put the stuffing in the centre.

Fold the square and press down to stick the borders together. When doing that, try to push out as much air as possible.

Wrap the tortello (tortelli is the plural word – tortello is singular) around your finger and stick the two back corners together and lift the front corner up. That's it!

Now, coming back to our ravioli; all the ravioli are now ready on the wooden board.

Boil your ravioli in slightly salted water for about 5-8 minutes. The time depend of the thickness of the pasta layer you have used and also on the quantity of stuffing inside the ravioli. Try with two or three ravioli first, taking them out at different times and you will see what is the best boiling time to apply.

 

This photograph shows a pan full of tortelli.

Melt the butter and add few sage leaves.

Put your ravioli into a plate, pour over some of melted butter and sprinkle with Parmesan cheese. It's simply delicious!
Nutrition