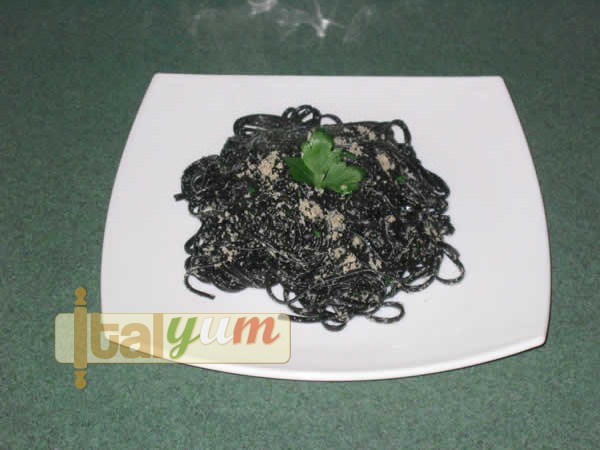 Roe Linguine (Linguine alla bottarga)
I regard this recipe as a super delicacy for seafood lovers. Bottarga is tuna or mullet roe, in origin used by the people of Sardinia and Sicily to make the sauce (bottarga sauce) to top their pasta. You can find the bottarga in any good Italian deli shop. In my case, now living on the west coast of Scotland, the only bottarga I can find locally is made of cod roe, which is nearly as good as the others. For the pasta, I have used squid ink linguine so you can better see the contrast of the bottarga sauce over the pasta, however you can use normal linguine pasta or spaghetti. Here, I am giving you the basic recipe and inside the recipe you will also find a link featuring a slightly different way to prepare the bottarga sauce so that you will have a couple of options available.
Note: for a hot version of the recipe, check for "hot bottarga sauce", featured in the top tips of the website.
Clicking on equipment pictures takes you to Amazon where you can buy the items. We get a small revenue share of anything you buy which helps keep the site running.
Ingredients
400

grams

(14 oz) Squid ink linguine pasta (alternatively use plain linguine)

60

ml

(2 fl oz) Extra virgin olive oil

1

Garlic clove

115

grams

(4 oz) Tuna roe or mullet roe (alternatively cod roe)

A handful of flat leaf parsley (roughly chopped)

Ground black pepper for seasoning
Instructions
First and foremost, we need to grate the cod roe, like grating a piece of Parmesan cheese.

Next, boil the linguine pasta and while it is boiling, you can proceed with the sauce preparation.

Put the olive oil into the pan, heat the oil over a gentle heat and add the garlic, cut in slices.

Sweat the garlic off until it turns golden in colour, then remove it from the pan and discard it.

Next, move the pan away from the heat and leave the oil to cool down for a minute or so.

Then, add 2/3 of the grated cod roe into the pan.

Add 2/3 of the parsley into the pan.

Season with black pepper.

Finally, add a couple of spoonfuls of the boiling water you are using to boil your pasta.

Stir to make a creamy mix.

Now, your sauce is ready. Wait for the pasta to be perfectly cooked al dente.

When the pasta is cooked al dente, just before draining it, put the pan containing the sauce over the heat again (high heat).

Drain the pasta, but leave the pasta slightly wet.

Add the pasta into the sauce pan.

Sprinkle with the remaining grated cod roe.

Sprinkle with the remaining parsley and stir well for a minute.

Serve the pasta alla bottarga straightaway and have a nice glass of white wine. Please, do not add Parmesan cheese, or any other cheese; you would spoil the whole dish.
Nutrition