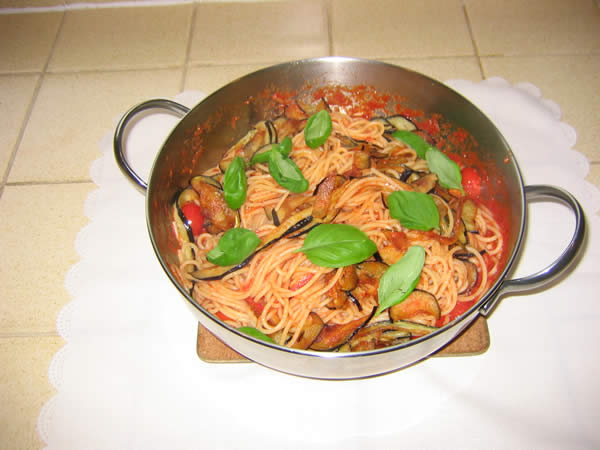 Spaghetti with aubergines (Spaghetti con le melanzane)
This recipe is very simple, but requires a bit more time than most spaghetti recipes because of the need to prepare the spaghetti topping in two stages:
STAGE 1: preparation of the aubergines
STAGE 2: preparation of the base sauce
Clicking on equipment pictures takes you to Amazon where you can buy the items. We get a small revenue share of anything you buy which helps keep the site running.
Ingredients
For the aubergines preparation:
1

Large aubergine (check "preparing aubergines" – see note below)

Note: "preparing aubergine" is featured in the top tips of the website.

Sunflower oil for deep frying (if you want to add some extra flavour to the aubergine, you can use a mild or light olive oil available in the supermarket)
For the base sauce (Metric & Imperial measurements):
400

grams

(14 oz) Spaghetti 

400

grams

(14 oz) Sieved tomatoes (the thinner the better – the seedless the better)

60

ml

(2 fl oz) Extra virgin olive oil

1

Big shallot (finely chopped)

1

Clove of garlic (finely chopped)

1

Red chilli – medium hot (thinly sliced)

10

Baby tomatoes (halved)

Basil leaves

Salt for seasoning
Instructions
Directions (STAGE 1): 
Put enough sunflower oil in the pan to allow deep frying of the aubergine slices.

Cut the ends off the aubergine and then cut the aubergine in half, longways. Slice one half in order to have half moon shapes and the other half to give long strips. Half moons and strips should be finely sliced; approx. no more than 2 mm (1/16") thick.

Heat the oil and when it is ready for frying, add the half moons. Fry until the half moons become golden brown. Remove from oil using a slotted spoon and lay the slices onto kitchen paper.

Do the same as above with the strips.

Finally, cover the deep fried aubergine slices with kitchen paper to absorb excess oil. Having completed this operation, season with salt.
Directions (STAGE 2):
Heat the extra virgin olive oil in a saucepan. Add the finely chopped shallot and sweat over a low heat for about 3 minutes until it is soft and golden.

…and chilli together and stir for another 2-3 minutes.

Finally, add the baby tomatoes and stir for 1 minute. Then remove the saucepan from the cooker to avoid the baby tomatoes overcooking.

When the spaghetti is ready, put the saucepan with the sauce onto the cooker again, pour the spaghetti in and stir thorougly on a medium-high heat for a few seconds. Then, add the aubergine slices, stir and finally top with the basil leaves. When served on the plate, everyone can top with a sprinkle of Parmesan cheese.
Nutrition