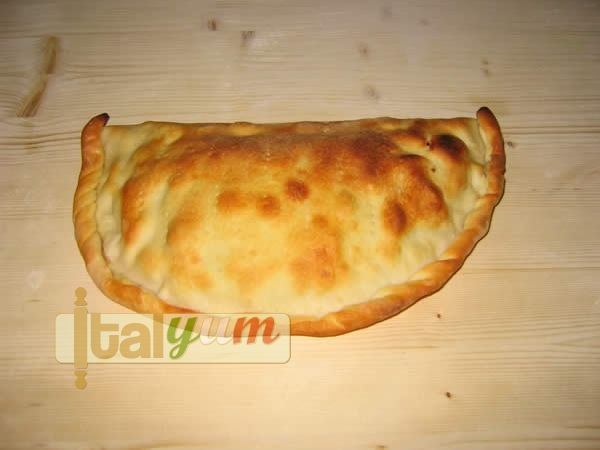 Calzone pizza
For the ingredients and initial dough preparation see one of the following pizza recipes in the website:
Pizza using fresh yeast
Pizza using active dried yeast
In simple worlds, I would describe the Calzone as a pizza presented in the style of a Cornish pasty. This is ideal for a picnic or when you are hungry while having a walk in the countryside.
Clicking on equipment pictures takes you to Amazon where you can buy the items. We get a small revenue share of anything you buy which helps keep the site running.
Ingredients
1

Portion

Pizza Dough

See Pizza Dough recipe: https://www.italyum.com/pizza/home-made-pizza-using-fresh-yeast-dough/
Instructions
Follow the instructions as per the pizza and when you are ready for the topping, spread the topping only on one half of the pizza layer (this should be as thin as I suggested for the pizza recipe).

Fold the empty side over, seal by rolling, and gently pressing the outer border with your fingers.

Then, brush the top layer with some extra virgin olive oil (not too much).     Now, set the oven at the maximum temperature (usually 240ºC – 465°F) and pre-heat it properly. If the oven is at the right temperature and your Calzone layer is thin, it should take about 15-20 minutes to cook. Fan assisted ovens may require a different cooking time. After 10 minutes cooking, it is a good idea to check the Calzone frequently. When the top starts to become golden brown, it is probably the right time to take the Calzone out of the oven.

You may try pinching the top with a fork if you think it will grow too much when in the oven.

If you think the top side could burn while the bottom is still undercooked, try covering the top with foil. The foil should be removed 5-7 minutes after being in the oven.
Nutrition