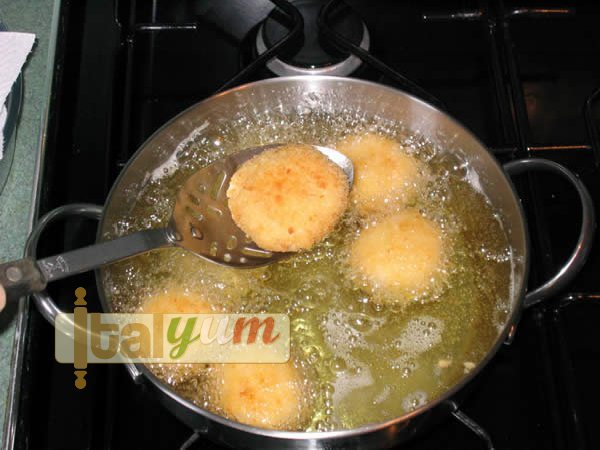 Rice croquettes (Polpette di riso)
Ever cooked too much rice? Well, put the extra rice in the fridge and the day after convert it in delicious croquettes. When I prepare the Parmigiana risotto, I always prepare a lot of it so the day after I can prepare croquettes. Eaten when warm they are lovely but cold they are even better!
2 CROQUETTES PER PERSON AS STARTER
4 CROQUETTES PER PERSON AS SIDE DISH
Clicking on equipment pictures takes you to Amazon where you can buy the items. We get a small revenue share of anything you buy which helps keep the site running.
Ingredients
450

grams

(1lb) Rice from the day before

2

Eggs (medium size)

25

grams

(1 oz) Fresh grated Parmesan cheese

Some mozzarella balls (diced)

A small bowl containing dry breadcrumbs (finely grated)

Sunflower oil for deep frying
Instructions
Put the rice into a large bowl.

Add 1 egg first and start to mix it with the rice. If the mix looks too dry, then you can add the second egg or just the yolk. What you need is a mix from which you can easily make balls (not too dry, not too loose).

Stir until all the egg coats the rice.

Now, add the Parmesan cheese and stir thoroughly. At this stage, you are free to add other ingredients if you like (i.e.: ham cut into small pieces – but of course the dish is no longer vegetarian!)

Take some of the rice in one hand and put 1 or 2 small mozzarella dices into it. Close the mozzarella inside making a rice ball.

Then, roll the ball in the breadcrumbs.

Flatten the ball, making sure it does not break and that you cannot see any part of mozzarella. The diameter of the disc should be about 4 cm (1 1/2").

This is what you should have before the deep frying stage.

Heat the sunflower oil and when the oil is hot, put the croquettes into the frying pan.

After few seconds move the croquettes gently with a spoon to ensure that they do not stick to the bottom of the pan.

Continue frying for few minutes until the croquettes are golden brown. When ready, remove them from the frying pan and put them into a large dish or bowl lined with some kitchen paper to absorb the excess oil.

This is the final presentation, where all the croquettes are perfectly cooked.
Nutrition