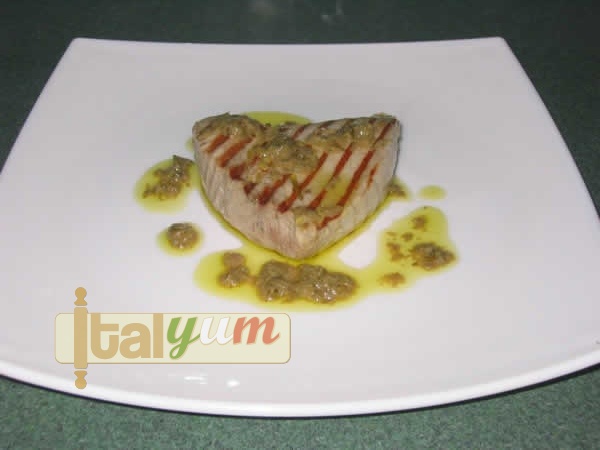 Caper and anchovy sauce (grilled fish)
It just happens that I was reading an old recipes book published in 1918 and my eye caught an interesting recipe for a sauce that was prepared with leftovers. The sauce is to accompany fish dishes, especially grilled fish and I thought that it would be great taking inspiration from that old text and developing  a sauce we can use over our contemporary tuna steaks! However, similar sauces can be found in the Sicilian culinary tradition, especially to accompany grilled swordfish (like the salmoriglio sauce), but for this I will write the recipe in the future, the first time I get some good swordfish steaks at the fish counter. For the moment, let's speak about tuna steaks and see how to prepare this dish.
Clicking on equipment pictures takes you to Amazon where you can buy the items. We get a small revenue share of anything you buy which helps keep the site running.
Ingredients
4

Large tuna steaks

Despite the picture above featuring only 2 tuna steaks, the ingredients will make enough sauce to top 4 large tuna steaks.

100

ml

(4 fl oz) Extra virgin olive oil

Lemon zest from one small lemon (finely chopped)

40

grams

(1 1/2 oz) Capers (finely chopped)

Capers are usually preserved in vinegar or salt so, before chopping them, rinse the capers under fresh running water and then pat them dry using kitchen paper.

3

grams

(1/2 tsp) French mustard

10

grams

(1 tbs) Anchovy paste

10

ml

(a bit less than 1/2 fl oz) Lemon juice

Salt for seasoning
Instructions
Pour the olive oil into a small glass bowl.

Finally, add the salt according to taste.

Next, take a small pan and fill it half way with boiling water. Now, set the heat to low and simmer the water (not boiling).

Put the glass bowl, containing all the ingredients, over the pan (the bowl should not touch the water) and cook bain Marie for about 5 minutes. While cooking, gently stir with a spoon. This technique allows the ingredients to blend together without subjecting the sauce to excessive heat. After 5 minutes turn the heat off and leave the bowl on the pan, to keep the sauce warm.

Next, brush the tuna steaks with olive oil.

Put the grill pan over the heat for 5 minutes so it will be very hot and ready for the steaks.

Then, put the tuna steaks onto the grill pan.

I like the tuna steaks cooked rare so I usually cook them for 2 minutes on each side, but this is just my personal choice. If you want the steaks cooked medium, you will probably need 3-4 minutes on each side.

These are the steaks turned after 2 minutes cooking on one side.

Finally, cover each of the steaks with some of the caper and anchovy sauce you have prepared.
Nutrition