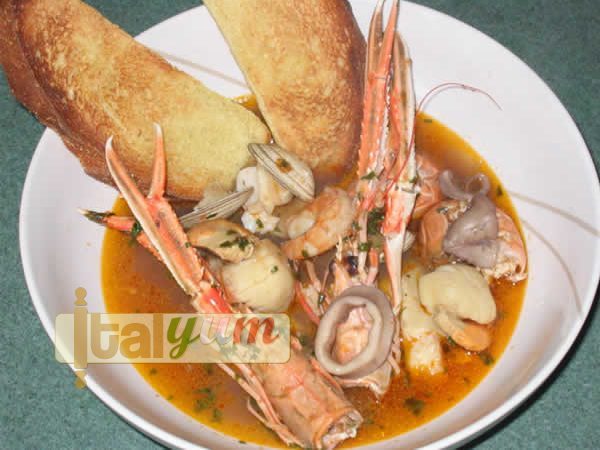 Fish Stew (Caciucco)
In Italy there are many varieties of fish stew, probably one for each region on the coastline. Each one has a distinct regional name: cacciucco, ciuppin, burrida, brodetto friulano are just some of the ones I can name. Furthermore, the recipes can also vary from town to town or even family to family depending on the local culinary traditions, the type of fish available etc.; but this is Italy and you will never find the Italians all agreeing on something! Here, I am going to show how to prepare the caciucco, my favourite, which you can taste if you have the chance to go to the town of Livorno in Tuscany. This dish is similar to the French "Bouillabaisse."
Now, to keep it simple, a good Italian fish stew requires a mix of white fish and shellfish. You need some whole fish called "pesce con lisca" (whole fish with bones) that you will only use for enhancing the stock and some fish called "pesce da taglio" (usually boneless large round fish sold in cutlets or fillets). About shellfish, you need some crustaceans and some molluscs. Having said that, you can prepare a fantastic fish stew using the varieties of seafish available in your area, no matter if you live along the mediterranean coastline or in the northern most part of Europe.
I live on the West coast of Scotland and I have never had any problem finding what I need and I cannot taste any difference between the fish stew I prepare here and the fish stew I used to prepare in Italy. All you need is a good fishmonger!When buying fish just remember that the varieties of fish you can find at the fishmonger are not present throughout the year, so you need to be flexible and identify the closest possible substitutes (that comes with experience).
Notes:
The above fish varieties are what was available at the fishmonger (West coast of Scotland – early August 2006).
The original recipe would require 1 red mullet, but not being available I used a sea bream instead. Anyway, in this recipe the gurnard, the sea bream and the John dory are used only for stock enhancing.
Baby octopus or small cuttlefish is what I would have used if I was in Italy, but being difficult to find here in Scotland, I used small squids instead (including their heads which actually look like a small octopus).
Finally, the original recipe would require also some "cannocchie" (mantis shrimps). In Italy we have plenty and we use one or two mantis shrimps per person. Them not being available, I used langoustines, which are perfect for the job.
Before starting to cook, we need to prepare the fish, so check "fish preparation" in the top tips section of the website.
Clicking on equipment pictures takes you to Amazon where you can buy the items. We get a small revenue share of anything you buy which helps keep the site running.
Ingredients
300

grams

(11 oz) Red Gurnard (one whole fish)*

300

grams

(11 oz) Sea Bream (one whole fish)*

250

grams

(9 oz) John Dory (one whole fish)*

200

grams

(7 oz) Monkfish (one tail piece)*

400

grams

(14 oz) Huss (one fillet)*

300

grams

(11 oz) Turbot (one fillet)*

400

grams

(14 oz) Squids (possibly small size)*

12

Langoustines

500

grams

(1.1 lb) Clams (a good alternative could be mussels)*

200

grams

(7 oz) King Scallops*

12

Headless Black Tiger Prawns (to save time, buy them already peeled and cleaned)
Other ingredients (Metric & Imperial measurements):
90

ml

(3 1/2 fl oz) Extra virgin olive oil

2

Shallots (finely chopped) – alternatively one onion

2

Cloves of garlic (finely chopped)

1

Celery stalk (finely chopped)

1

Carrot (finely chopped)

1

Whole dried chilli (mild)

400

grams

(14 oz) Chopped tomatoes

A handful of flat leaf parsley (finely chopped)

200

ml

(7 fl oz) A full glass of red wine

2

Fish stock cubes for 2 litres of boiled water (preparation of the light stock)

Salt for seasoning

Slices of Italian country bread, grilled and brushed with garlic
Instructions
Chop shallots, carrot, celery and garlic. Put them together into a bowl.

Now, you need two large soup pans (I will refer to these as FIRST SOUP PAN and SECOND SOUP PAN) and one smaller pan that will be used to simmer about two litres of light stock.

Put the olive oil into the first soup pan and heat it on medium heat.

Add the chopped vegetables into the pan.

Stir and sweat them off until the shallot becomes golden in colour.

Stir and then cook for 2 minutes.

Then, add the red wine and cook for 10 minutes.

Meanwhile, stir occasionally.

After 10 minutes, remove the squids from the pan.

Put them into a small bowl and set aside for a later stage.

Taking away the squids, you should have a kind of gravy…

…to which we are going to add the chopped tomatoes.

Add the whole fish, starting with whatever you can grab first ( I started with the gurnard).

Immediately after the gurnard, add the sea bream…

As you can see, we need extra light stock to cover.

As suggested at earlier stage, you should also have a pan with some light stock simmering besides. Add enough ladlefuls to cover.

Now, keep cooking on medium heat for 20 minutes.

After 20 minutes, position the food mill (Mouli) over the second soup pan, which so far has been kept empty.

Process all the content of the first soup pan through the food mill. This way you will have made a proper enhanced fish stock without any bone and flavoured with some of the best whole fish. From now on, you will continue cooking only using the second soup pan.

The fish meat and bones (from the whole fish), that remain into the food mill, can now be discarded.

Here, we have the enhanced fish stock. Bring the heat to low and add a couple of ladlefuls of the light stock you have set aside (this is because we will soon add other fish and the fish has to be completely covered).

Taste and season with salt.

Add the chilli and remember to use mild chilli because the stew must not be too hot; you should taste the chilli only in the background. Now simmer for 10 minutes.

After 10 minutes, we add the various fish fillets and…

…the squids you previously set aside.

Check the level because after having added the fillets and the squids, you may need another ladleful of light stock.

Also, straightaway after the fillets and squids, add the langoustines heads and…

…the langoustines tails. Now, simmer for 10 minutes. From now on, I suggest not stirring as you risk breaking up the pieces of fish. If you want to be sure that the fish does not stick to the bottom of the pan, try to gently shake or twist the pan.

After 10 minuets, add the prawns…

…add the king scallops and…

…add the clams you previously set aside.

Now, continue to simmer for the final 5 minutes.

For the final simmering stage you can also cover with the lid.

After final 5 minutes, sprinkle with parsley. Now, if you want really the best from it, leave the stew alone, for two or three hours; just cover the pan with the lid and do something else! At the time of serving, re-warm the stew and…

…serve it with few slices of country bread. Tuscan style country bread is probably the best (prepare 2-3 slices per person). The end result should look like in the picture and the broth should be a kind of earthy pink colour.

Buon appetito!

Wine: my advice is to serve the fish stew with "Greco di Tufo" white wine from South Italy (Avellino province).
Nutrition