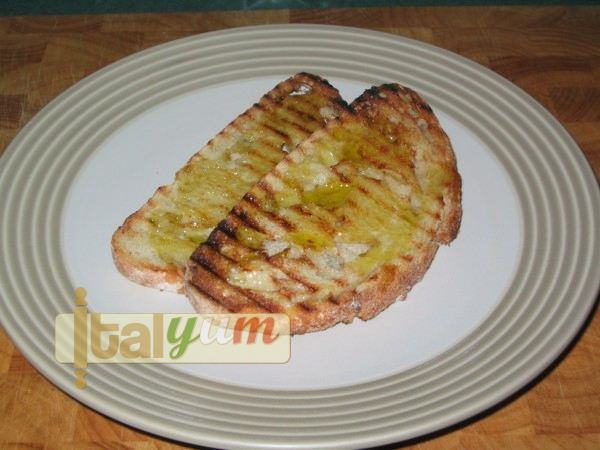 Brilliant bruschetta (Fettunta)
"Fettunta" is the local term, mainly used in central Italy (Tuscany), for "la fetta unta", which translates into "the oily slice". It's bread and olive oil, but please don't underestimate its simple appearance and frugality of ingredients; here we are talking about the "mother" of all the bruschettas. This simple snack epitomises centuries of tradition, in producing excellent olive oil (the Mediterranean's gold), the oil being consumed on a daily basis, accompanied by wonderful wood fired bread. It is the celebration of the hard work people put into producing their olive oil and there is nothing better than fettunta, eaten under a pergola, during a summer's day, washed down with a good glass of chilled white wine! I eat fettunta for lunch, accompanied by a salad, or give it to the kids as a mid afternoon snack; they love it.
When making fettunta I use the best extra virgin olive oil I can get; no matter how much it costs. I keep two types of olive oil in the house, the cheap unglorified one for cooking and the finest and more expensive for fettunta, bruschettas or a fancy salad. For the bread, use "pane casereccio Toscano" or "pane Pugliese", but any sourdough loaf or pain de campagne will do the job as long it has been made by a skilled artisan baker or by yourself, if you are into serious bread making. 
The Ingredients above are what you need in general terms. I didn't specify what quantity of this or what quantity of that because some of you may like to eat just one fettunta slice, while someone else would go for two or three slices and still be hungry. Furthermore, I have not put "ground pepper" in the list because a good olive oil should have a peppery taste and if it slightly burns your throat; that's a good thing, it means that your oil is very good! However, if you feel that you want to add some ground pepper; just do it, it is not a crime! 
Clicking on equipment pictures takes you to Amazon where you can buy the items. We get a small revenue share of anything you buy which helps keep the site running.
Ingredients
1

Bread loaf (I used a sourdough round loaf)

Extra virgin olive oil (use a top quality one)

A head of garlic (push the boat out and buy organic)

Salt for seasoning
Instructions
Grill the slices on both sides (you can also use a normal grill).

Take a clove of garlic and rub it against the crusty surface of the slices. If the slices have been properly grilled, the garlic will wear down in seconds, like you were rubbing it against sand paper.

Add a generous amount of olive oil over the slices.

Here is the fettunta and certainly you in for a treat.
Nutrition