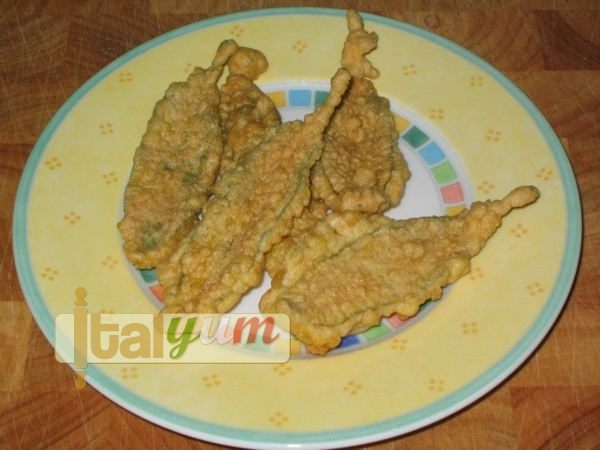 Fried sage leaves (Salvia fritta)
Salvia fritta means "fried sage leaves". It can be served as a starter with some cuts of Parmesan cheese, a few olives and a glass of chilled prosecco bubbly wine. In my view it is absolutely delicious and after the frying you will find that the sage's pungent flavour has been toned down, making it more palatable. Despite this recipe is popular all over Italy, it has its origin in Tuscany, probably from the renaissance period.   
It happens that I have a nice sage plant in my vegetable patch, which has survived numerous harsh Scottish winters and also this year she has delivered beautiful leaves and flowers…….so……
Clicking on equipment pictures takes you to Amazon where you can buy the items. We get a small revenue share of anything you buy which helps keep the site running.
Ingredients
10

Sage leaves

2

Medium size eggs

40

grams

(1 1/2 oz) Plain flour

Salt for seasoning

300

ml

(1/2 pint) Olive oil for frying
Instructions
Beat the eggs using a fork.

Season with salt and beat for few more seconds.

Beat the mixture and at the same time break down the bigger lumps with the fork. We don't need to achieve a super smooth batter for this recipe.

Add the sage leaves into the batter.

Press them down so that the leaves are fully coated with batter.

Take a shallow frying pan and heat the oil at about 160°C (320°F).

Take the leaves, one by one, and put them into the pan.

Fry for about a minute or until the bottom side of the leaves has reached a golden colour, then turn the leaves and continue frying until you reach the same result.

The picture shows the leaves after I have turned them.

When ready, remove the fried leaves from the pan using a slotted spoon.

Lay the leaves onto kitchen paper so that the excess oil is absorbed.

Gently turn the leaves on the other side (don't press them down by any means) and after a minute or two serve them on a plate.

During the final serving, feel free to accompany them with whatever you wish (olives, Parmesan cheese, red roasted pepper strips etc.).
Nutrition