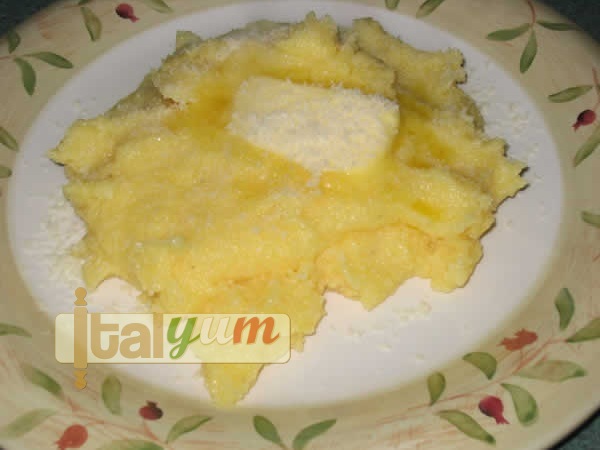 Polenta
Polenta is one of those things able to bring my memory back to the best times of my childhood. I remember my aunt preparing polenta on a wooden fire using a copper cauldron and saying "you need to keep stirring". The cracking noise of the wood logs, the steam, the smoke, this yellow thing that becomes more and more difficult to stir, what a wonderful experience! There is something mystical about making polenta, like when preparing bread at home, and there was no Sunday without it.
I come from the Lombardy region of Italy, specifically from Brescia province, which with Bergamo province, is probably considered the polenta area for excellence, despite it being popular in all North Italy. However, it seems that it was developed first in the North east of the country, in the Friuli Venezia Giulia region of Italy, in the 16th century. 
Anyway, polenta goes with everthing! In North Italy it is a must with any kind of game and poultry or pork meat. It is also quite common as accompaniment to fish like stockfish (stoccafisso), pike, perch, eel and many others. In this recipe I will give you few ideas about how to use polenta in its simplest and most wonderful way.
Note:polenta flour is made by ground corn kernels and it has a coarse finish. You can buy traditional polenta flour on the internet or Italian deli shops. Supermarkets usually sell "ready made" or "fast" versions of polenta but by buying them you would miss the point!
Clicking on equipment pictures takes you to Amazon where you can buy the items. We get a small revenue share of anything you buy which helps keep the site running.
Ingredients
4

litres

Water

30

grams

(2 level tbs) Coarse salt

1

kilogram

(2.2 lb) Traditional polenta flour
Instructions
For 1 Kg (2 pounds 3 ounces) of polenta flour, you need a big pan (a copper cauldron for the purists!) containing 4 litres (4 quarts 5/8 cup) of cold water. Put the pan on the heat (high heat – only at this initial stage) and immediately add the salt into the pan.

When the water is tepid, add the flour gradually. In Italy we say to add the flour "a pioggia", that means like a gentle rain.

Now, whisk with energy for few seconds so that you prevent the forming of any lumps.

Next, bring the heat to medium/low and, slowly, start stirring with a big wooden spoon (in the photograph you can see that I am using a specific polenta spoon). I am sorry for your arms but now you need to keep stirring for at least 45 minutes (if you are bored, have a glass of wine and listen to the music or chat with someone).

This photograph shows the polenta making after 10 minutes stirring.

This photograph shows the polenta making after 20 minutes stirring.

This photograph shows the polenta making after 30 minutes stirring. At this stage the polenta is a bit hard to stir so it would probably be better to hold the pan with one hand (here, using a kitchen glove would be a good idea) while stirring with the other.

There you go, this is the polenta after 45 minutes cooking. I will stop here because the polenta is ready, since it has reached the right consistency. Consistency is subjective; a purist would prefer the polenta more firm without showing any flowing once spooned onto the plate, but for what I have in mind I need the polenta still a bit flowing and a further 10 minutes cooking would make it too hard.

Now, I will show you few simple preparations starting from my favourite. Spoon some hot polenta onto the plate and top it with a knob of good quality butter.

Let the butter melt a bit and then sprinkle with Parmesan cheese and eat it. Another version is to cut a few small pieces of Gorgonzola cheese and insert the cheese inside the hot polenta so that it will melt easily. Both these preparations are delicious and very simple to make.

Another preparation is to cook some sausages. There are many different ways to cook sausages but if you want something quick and easy, just grill them. Before putting the sausages under the grill, pinch them with a fork so they will drop some of their tasty fat in the bottom of the grill pan; we will use some of this fat as well.

Start cooking the sausages about 15-20 minutes before the polenta is ready so you can top the hot polenta straightaway with them.

When the polenta is ready, spoon some of it onto a plate, spread a couple of dessert spoons of fat (collect it from the bottom of the grill pan) over the polenta and finally top the whole thing with your sausages.

Another way to use polenta is as follows. Put a knob of butter into a shallow oven tray.

Now, using a kitchen paper, spread the butter around, including the sides. Using the kitchen paper, you will also remove the excess butter.

For this to work perfectly, you need to use polenta that flows a bit so remember to use polenta at its 45 minutes cooking stage and no more. Add as many spoons as you need to cover the bottom of the tray, having a layer 1 cm (3/8") thick or slightly more.

Spread the polenta with a spatula to create an even and uniform layer. Leave to cool for about 1 hour.

Now, turn the tray over a flat surface (I used a glass chopping board) and let the polenta layer drop down.

Cut the layer in whatever shape you like.

Put the polenta pieces onto a cast iron griddle pan and cook them until their surface shows the typical blackened stripes. You can top these hot pieces with Parmesan cheese or eat them as they come.

Finally, another way to have polenta is to spoon some flowing polenta onto a pizza tray. Put some baking paper in the bottom of the tray, add the polenta and then cover with a second layer of paper. Using a rolling pin, you can help spread the polenta so that you have a thin layer similar to pizza.

Next, remove the top paper.

Cut the paper around the tray to look a bit more tidy.

Top the polenta layer with few small knobs of butter.

Sprinkle with Parmesan cheese.

Now, it is ready for the grill or the oven. You may wish to top the layer with something else, then do it! (e.g. cured meat, different types of cheese, bacon, anchovy fillets etc).

Cook until the top surface is lightly browned.

Cut some slices and serve as it is.

From what you can see, polenta is a very versatile thing and I would leave it to your imagination. Once you have mastered the basic technique, you will be able to create endless versions and amuse your family members and friends.
Nutrition