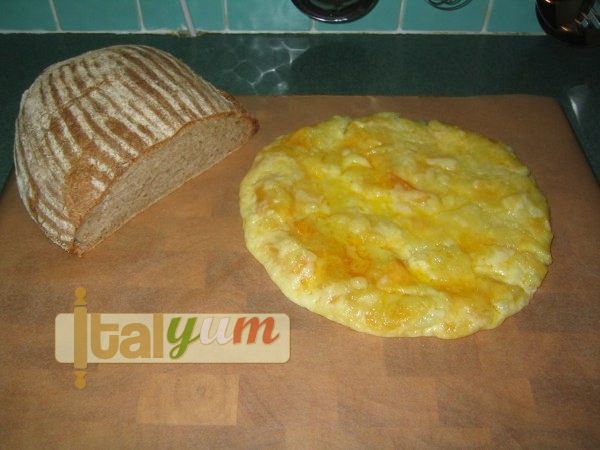 Potato and cheese fry (Frico)
In the very North West corner of Italy, there is a village called "Camporosso in Val Canale". The village is very close to the border with Austria and Slovenia; if you cannot find it on the map, then check for main town of Tarvisio, which is a couple of miles from Camporosso. About 40 years ago, when I was a little boy, that was my favourite place for summer holidays.
I spent considerable time there, especially during the school holidays. It is a very special place to me because it was where my grandmother lived. My grandmother and the Alps, an indelible association that has accompanied me for all of my life. If you want to have an idea of the place and its surrounds, just click on the following link: Camporosso & surrounds  where I have put some pictures for you. Nonna (grandmother) was a very caring person and also a very good cook; delivering the kind of cooking you can find in all grandmothers, I would say, characterised by wisdom and frugality. When I wanted to eat something special she knew that "frico" was the answer to my wish.
Frico is a typical dish made in the Friuli Venezia Giulia region of Italy.  A dish that comes in many different variations because, as I have said many times, Italians never agree on anything! Nearly everyone adjusts the frico recipe, to suit their own personal cooking style or follows their family tradition because that was what their mamma or nonna always did. The two fundamental ingredients for the frico recipe are potatoes and cheese. However in some parts of the region people like to add onion, some others like to throw an egg or two into the potatoes/cheese mix. I stick to my grandmother's recipe; just potatoes and cheese. During the preparation of the recipe, I called my mum and asked if she remembers having frico when she was young. She said that her grandmother used to prepare frico for her and the dish was made of just potatoes and cheese; but if an extra mouth was to be fed, then an egg was required to increase the volume of the dish and if two extra mouths were to be fed, then the cheese crust would also end up in the plate! We are speaking of a time when food was scarce (WWII) and people had to make do with what they had. 
In recent years chefs have started to play around this recipe and instead of boiling the potatoes, as I do, they just grate the uncooked potatoes and carry on making the frico, like cooking a Swiss potato rösti.  Frico is not a potato rösti nor a fondue; it is simply something else. When I asked my mum about grating the uncooked potatoes she simply said that her grandmother never had a grater!  Then she made her point: my grandmother never had a potato masher and she used a fork instead! OK, I get the message….I replied to her on the phone!
Let's speak about the cheese. For the frico I recommend using the type of cheese they made in that region, so we are speaking about Montasio cheese. Ideally, I would use half of the amount of cheese stated in the recipe, made of fresh Montasio (about 2 months old) and for the other half I would use a semi-aged Montasio (about 5 months old), otherwise use what you can get. In Camporosso we used to buy "formaggio latteria", that some people call "formaggio di montagna" or "formaggio di malga", a fresh cow's milk cheese, very white in colour, soft and smooth in texture with a sweet finish. If you are lucky, you may find this type of cheese in an Italian deli shop or from a continental cheese importer.
If you cannot find Montasio, then look for Asiago cheese; it will work fine! If both these the types of cheese are unavailable to you, then look for mild cow's milk cheese. Now, I am going to show you how to prepare this dish, which I devoured straight-away after its preparation, with some slices of sourdough bread I made last night and a glass of red wine.
Clicking on equipment pictures takes you to Amazon where you can buy the items. We get a small revenue share of anything you buy which helps keep the site running.
Ingredients
400

grams

(14 oz) Potatoes

The potato variety I used for this recipe is ROMANO. As a guidance, choose a potato variety with a slightly waxy texture.

400

grams

(14 oz) Montasio cheese

For this recipe we don't need any fat (i.e. butter, olive oil etc.) because the fat provided by the melted cheese will be more than enough. We don't need seasoning too, because the cheese itself will provide the right seasoning.
Instructions
Fill a pan with cold water, add some salt and bring to the boil. Boil the potatoes until they are soft (if a fork can pass through them easily, then it means they are ready). Choose potatoes with more or less the same size so they will all be ready at the same time.

While the potatoes are boiling, dice the cheese, roughly making 1 x 1 cm (3/8" x 3/8") dice.

When the potatoes are ready, drain and leave them in a colander to cool down.

Then, roughly mash them using a fork…..

Take a wide frying pan, apply gentle heat and put the mashed potato into the pan.

Pat the mashed potato with a spatula, to make a circle about 1 cm (3/8") thick. If it is 1 1/2 cm (5/8") thick it doesn't matter! Leave the potato circle to cook on its own for about 3-4 minutes.

Then, add the cheese dice, spreading it evenly. Don't add all the cheese you have in one go because you may need only 350 g (12 1/2 ounces) instead of 400 g (14 ounces) stated in the recipe.

After I spread the cheese dice around as shown in the picture, I press them down through the potato mash, with a spatula, so that they can get in contact with the bottom of the pan.

The cheese will soon start to melt.

With a spatula, go around the perimeter of the circle and fold the melted cheese toward the centre. Basically, we are trying to make a nice circular shape.

After 5-10 minutes (it depends on the heat) the bottom of the circle should be golden in colour. You may be able to gently lift one side with the spatula to check the colour. Now it is time to turn the whole thing upside down, flipping it in the air like you would do with a frittata or an omelette.

The picture shows the frico after the turn. You can also see the colour you should achieve. Some people like it a bit darker; nothing wrong with that, it is just a matter of personal taste, as long as you don't burn it.

Cook the second side for another 5-10 minutes until you achieve the same colour intensity as for the top side. At the same time, using a spatula, go around the perimeter to keep a nice circular shape.

When the frico is ready, remove the pan from the heat  and let it cool down in the pan for few minutes so that it will hold its shape once you take it out of the pan. I turn it over a greaseproof or baking paper, then you can slice it and serve it with polenta or, as I did, with some sourdough bread.

Finally, this is a picture I took in August 2008 during a family reunion in my grandmother's house. To get there, I travelled from Scotland, where I now live, and it was a beautiful surprise to see that my aunt Oneglia didn't forget about the frico. 
Nutrition