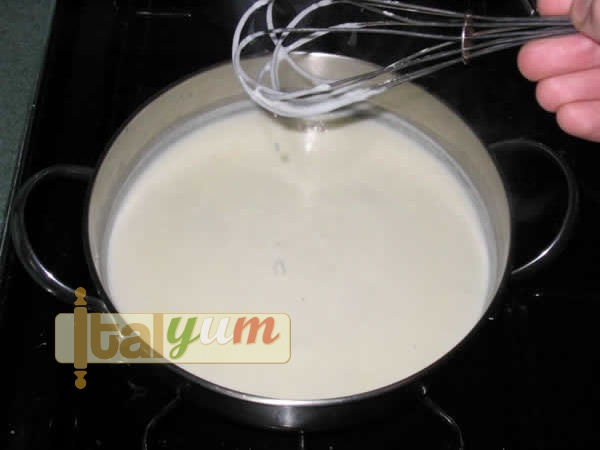 Bechamel sauce (Salsa besciamella)
This is a very basic recipe you can use for many different preparations. I like to flavour the milk for the bechamel sauce with a pinch of nutmeg, but if you do not like nutmeg, you can try with a studded onion instead. Remember, if you want a more liquid bechamel sauce, add a bit more milk. If you want a thicker sauce, just let it simmer for longer. Usually, when the bechamel sauce is intended to be used for preparation of lasagne, I try to keep the bechamel sauce a bit liquid in order to moister the lasagne sheets.
Note: the quantities I have given are intended for the preparation of bechamel sauce needed to prepare a 4-6 portions of lasagne.
Clicking on equipment pictures takes you to Amazon where you can buy the items. We get a small revenue share of anything you buy which helps keep the site running.
Ingredients
570

ml

(1 pint) Milk

50

grams

(2 oz) Butter

50

grams

(2 oz) Plain flour

4

grams

(1/2 tsp) Salt

A pinch of nutmeg
Instructions
Heat the milk. If you are in a hurry, 3 minutes in the microwave should do the job, otherwise heat the milk in a pan. Next, add a pinch of nutmeg.

Put the butter into a saucepan, on a gentle heat, and melt it.

Once the butter has melted and starts to bubble, gradually add the flour whisking constantly.

Whisk until all the flour is coated with the butter and the the paste achieve a sandy texture (technically, this is called a white roux). This operation should last a couple of minutes. Next, let the roux to cool down because it is not good practice to add hot milk to a hot roux (risk of burning and the mixture would become too lumpy).

When the roux and the pan have cooled down, return the pan to the fire and gradually add the milk. Meanwhile keep whisking.

Once you are sure that the roux is completely mixed with the milk and no lumps are present, turn the heat down to low and gently stir.

Keep stirring gently until the sauce thickens. Then, you can remove the pan from the heat and set aside (for a perfect smooth sauce, pass the sauce through a strainer). You bechamel sauce is now ready.
Nutrition