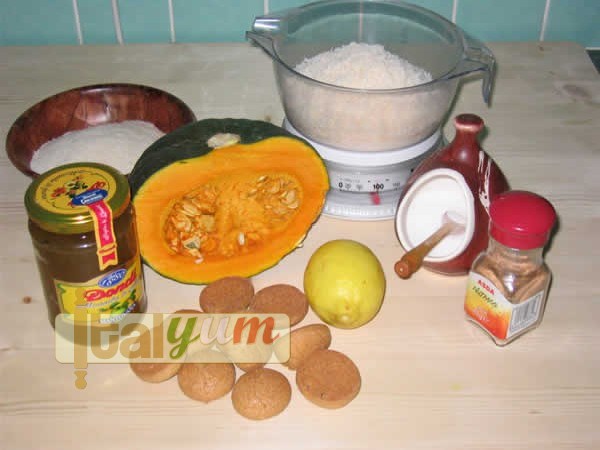 Pumpkin stuffing for ravioli (Ripieno di zucca per ravioli)
Pumpkin stuffing applies to the "pumpkin ravioli" recipe, featured in the pasta section of the website
Clicking on equipment pictures takes you to Amazon where you can buy the items. We get a small revenue share of anything you buy which helps keep the site running.
Ingredients
500

grams

(1.1 lb) Pumpkin (weighed without seeds and skin)

40

grams

(1 1/2 oz) Amaretti biscuits

50

grams

(2 oz) Mostarda di mele Mantovana (apple mustard)

If you cannot find the "mostarda di mele Mantovana", then you can use, as alternative, the "mostarda Cremonese". Mostarda can be found in Italian deli shops.

80

grams

(3 oz) Freshly grated Parmesan Cheese

Zest of half a lemon

A pinch of nutmeg

A pinch of salt

Keep a small quantity of finely grated breadcrumbs handy. These can be added to the mix in case it is too soft.
Instructions
Clean your pumpkin of seeds, remove the skin and slice it.

Weigh the pumpkin to check that you have 500g (1 pound 2 ounces).

Meanwhile you have pre-heated the oven at 180ºC (355ºF). Put the pumpkin slices onto an oven tray.

Cover the tray with foil.

Put the tray in the oven and cook for 1 hour.

Weigh the apple mustard to check that you have 50g (2 ounces).

Finely crush the amaretti biscuits.

When the pumpkin is ready (you can easily break it with a fork), remove it from the oven.

Place the pumpkin into a food mill.

This is what you should get processing the pumpkin through the food mill.

Add the apple mustard into the food mill and grind it.

Add the lemon zest into the food mill and grind it.

Add the Parmesan cheese to the bowl containing the pumpkin pulp.

Now, add the amaretti biscuits.

Mix well together with a wooden spoon.

Now, if the mix looks too soft, you can add a small quantity of breadcrumbs to set it. If the mix looks too dry, you may add a tiny quantity of apple mustard syrup.

Now, you have two options: put the mix in the freezer and defrost it the day before you intend to prepare the ravioli or let set it in the fridge for few hours and then use it for stuffing your ravioli.
Nutrition