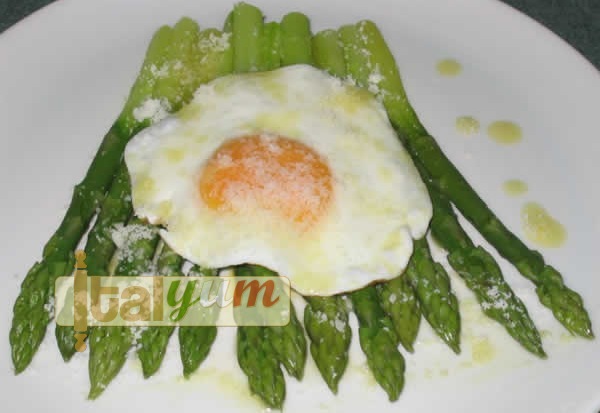 Asparagus with eggs (Asparagi con le uova)
An easy way to serve asparagus, which is so good and underestimated by many people. It is a quick to prepare recipe that I use when I am in a hurry. Complete this dish with a good slice of country bread.
Clicking on equipment pictures takes you to Amazon where you can buy the items. We get a small revenue share of anything you buy which helps keep the site running.
Ingredients
20

Asparagus (10 per person)

2

Large eggs (1 per person) – if possible, try to use fresh organic or free-range eggs

1

Knob of butter

Freshly grated Parmesan cheese
Instructions
First, we need to prepare the asparagus. If the asparagus have been hanging around for a while (few days from they have been picked), I suggest you pare the lower part of the stalk, which is usually hard.

A potato peeler is ideal for this operation.

Also, cut off the bottom (about 2 cm – 3/4") of the stalk, which is usually a bit woody.

Now, what we need is boiling water (slightly salted) so take a pan large enough to contain all your asparagus, add water, salt and bring the water to the boil (an alternative way of cooking the asparagus is to use a steamer).

When the water is boiling, put all your asparagus into it.

When the asparagus are ready, remove them from the pan using a slotted spoon. Boiling time depends on the asparagus size. In this recipe I boiled the asparagus for 5 minutes. Anyway, boil the asparagus until tender. You can use a fork to test them, if the fork pass through them easily, this means they are ready.

2-3 minutes before the asparagus are ready, start cooking your eggs. Put few drops of olive oil in the frying pan.

With kitchen paper, brush the oil all over the pan surface to create a very thin coat. Alternatively, you can brush with butter or lard if you prefer, but always remember not to exaggerate with these fats (just a thin coat).

Cook your eggs over a medium heat. The eggs yolk should still be a bit soft.

Melt the butter, but do not let it to become brown.

Meanwhile, you have put your asparagus onto a plate and covered with the egg. Pour some melted butter over the whole thing, but watch not to overdo the butter otherwise the dish would be too rich.

Sprinkle with Parmesan cheese.
Nutrition