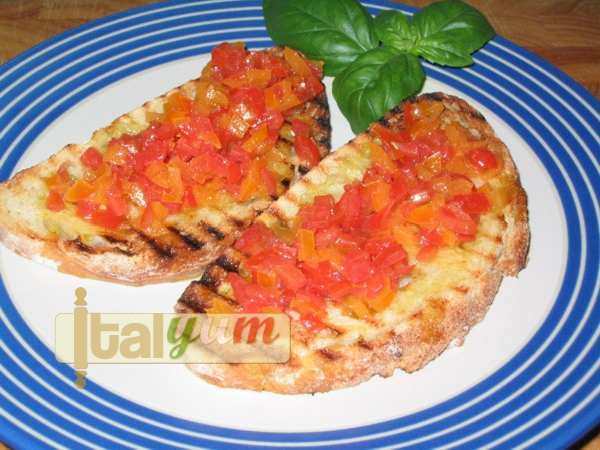 Bruschetta with tomatoes (Bruschetta al pomodoro)
Bruschetta is yummy, colourful, fast to make and healthy; Italian fast food at its best! When I am very busy and have to feed the family during lunch time, bruschetta is the ace up my sleeve; it always works, especially with the kids. It's ancient parent is the "fettunta" (you can read about fettunta in the SPECIALS section of this website) and you can have endless variations of bruschetta, depending on what you have in the fridge. You can make bruschetta simply using tomatoes, as I am showing here, or use a combination of different toppings like Parma ham, bresaola, sausage, smoked salmon, tuna, anchovies, mozzarella, ricotta, artichokes hearts, chicken liver (obviously cooked), olives, capers, mushrooms, pesto sauce, olive paste, chilli, walnuts and many other ingredients….
On the negative side, bruschetta is one of the most mispronounced words when it comes to Italian food (the main culprits? celebrity chefs and TV food program presenters, of course). It is not "brushetta", with the "sh" like in the word sh**, but instead it is "brusketta", with the "sk", more like the word sketch. There's only one way to pronounce it (there are not regional variations as suggested by someone on the internet) and there's no excuses for not saying it correctly; if you can say "breadbasket", than you should be able to say bruschetta like in the following audio link )
When making bruschetta, I use the best extra virgin olive oil I can get; no matter how much it costs. I keep two types of olive oil in the house, the cheap unglorified one for cooking and the finest and more expensive for  bruschettas or a fancy salad. For the bread, use "pane casereccio Toscano" or "pane Pugliese", but any sourdough loaf or pain de campagne will do the job as long it has been made by a skilled artisan baker or by yourself, if you are into serious bread making.
Note: the ingredients below are what you need in general terms. I didn't specify what quantity of this or what quantity of that because some of you may like to eat just one bruschetta, while someone else would go for two or three slices and still be hungry. Furthermore, I have not put "ground pepper" in the list because a good olive oil should have a peppery taste and if it slightly burns your throat; that's a good thing, it means that your oil is very good! However, if you feel that you want to add some ground pepper; just do it, it is not a crime!
Clicking on equipment pictures takes you to Amazon where you can buy the items. We get a small revenue share of anything you buy which helps keep the site running.
Ingredients
1

Bread loaf (I used a sourdough round loaf)

Plum tomatoes

Extra virgin olive oil (use a top quality one)

A head of garlic (push the boat out and buy organic)

Basil leaves

Salt for seasoning
Instructions
Wash and dry the tomatoes. Cut them in half, scoop out the seeds and juice (using a melon baller will make the job neat and easy). Scoop the tomatoes over a small bowl so that all the seeds and juice fall into it.

Cut each tomato half into narrow strips and then dice the strips.

Take a large bowl, cut a clove of garlic in half and rub the cut side all over the inside of the bowl.

Put the diced tomato into the large bowl.

Sieve the contents of the small bowl into the large bowl. The aim is to extract some clear tomato juice, just one tablespoon, no more than that.

You can help by pressing down with a wooden spoon.

Add 5 or 6 basil leaves into the large bowl.

Add a splash of olive oil.

Season with salt according to taste.

Stir so that all the ingredients and flavours mix together. The bruschetta topping is ready; set it aside and prepare the bread now.

Grill the slices on both sides (you can also use a normal grill).

Take a clove of garlic and rub it against the crusty surface of the slices. If the slices have been properly grilled, the garlic will wear down in seconds, like you were rubbing it against sand paper.

Add some olive oil over the slices.

We have already seasoned the diced tomato topping with salt, but if you like a bit of extra salt, here is the time do it, otherwise skip to the next picture.

Top the bruschetta with the flavoured diced tomato.

Here is the bruschetta al pomodoro.
Nutrition