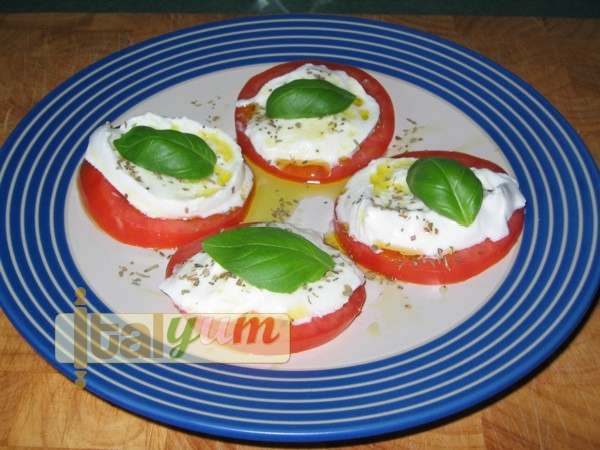 Caprese Salad (Insalata caprese)
This is one of the most famous Italian salads and it is very easy to make. It seems it got its name for the island of Capri, in south Italy (very close to Naples), where top quality tomatoes, mozzarella and olive oil are abundant and regularly present in the local dishes; just think about the margherita pizza.
It contains very few ingredients, but you should use only the best of them, to make an exceptionally tasty caprese. Buy some organic beef tomatoes, some buffalo mozzarella, few leaves of fresh basil, a good extra virgin olive oil and finally some dry oregano. Then, think of assembling an Italian flag into your plate; that's it!
Insalata caprese is a great starter, and very refreshing too. It can be served before a barbecue or eaten as a quick lunch, with some crackers, as I often do.
There are many variations of this salad, because people like to add other ingredients like anchovy fillets, black and green olives, chilli oil, capers etc. However, as I often say, keep it simple and don't tweak the recipes too much; here the secret is the quality of the ingredients.  
Note: the ingredients above are for 4 persons. In general, you need one large tomato and one mozzarella ball per person.
In the following directions I will show you how to prepare one plate (for one person).
Clicking on equipment pictures takes you to Amazon where you can buy the items. We get a small revenue share of anything you buy which helps keep the site running.
Ingredients
4

Beef tomatoes (possibly organic)

4

Buffalo mozzarella balls

Extra virgin olive oil

Dry oregano

Salt for seasoning

Fresh basil leaves
Instructions
Slice the tomato and the mozzarella ball as shown in the picture.

Lay four or five tomato slices on the plate and top the tomato with the mozzarella slices.

Next, a generous dash of extra virgin olive oil.

Scatter some dry oregano all over the plate.

Finally, top the mozzarella slices with fresh basil and now enjoy your caprese.
Nutrition