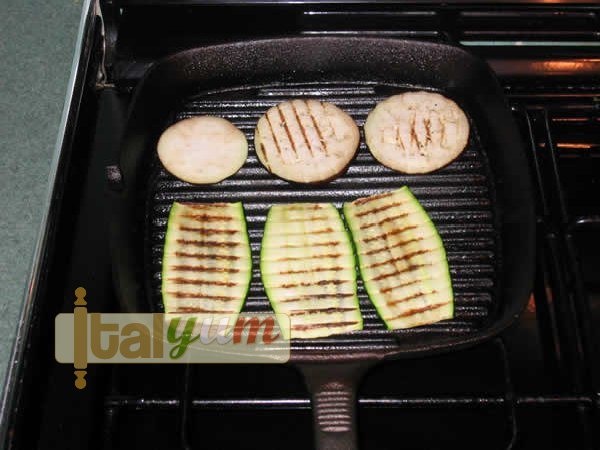 Grilled vegetables (Verdure alla piastra)
This is a quick way to prepare an "antipasto di verdure" (vegetable starter). However, vegetables cooked and seasoned in the way I am going to show you, can also be used as a side dish or as a filling for your sandwiches. Preparation is so simple that I am not going to tell you how much of this or how much of that; just play it by ear!
Clicking on equipment pictures takes you to Amazon where you can buy the items. We get a small revenue share of anything you buy which helps keep the site running.
Instructions
In this case, I took one aubergine/eggplant and one courgette. Cut them in 3 mm (1/8") thick slices. Then, take a small handul of flat leaf parsley and roughly chop it (you will use this parsley for the final seasoning).

A few hours before cooking the vegetables, put some extra virgin olive oil (about a glass) into a small container together with a couple of cloves of garlic (grossly cut) and a dash of parsley. Close the container with its lid and let the olive oil absorb the flafours. At the time of cooking, pour the container contents into a tray (any tray) in which you will accomodate the grilled vegetables.

Bring tha cast iron grill pan at cooking temperature and start cooking all your slices. Cook for a few minutes on each side, until you see the characteristic blackened stripes.

During the cooking, you can also apply a thin coat of oil onto the slices.

Once the vegetable slices are cookied, put them into the tray. Sprinkle with some extra parsley.

Season with white pepper or, if you love it hot, cut a fresh red chilli in thin slices and sprinkle them over.

If it looks too dry, do not be worried; add some extra olive oil, but remember not to exaggerate!

Stir everything together.

Cover the tray with cling film.

Let it marinate for a couple of hours before serving it cold.