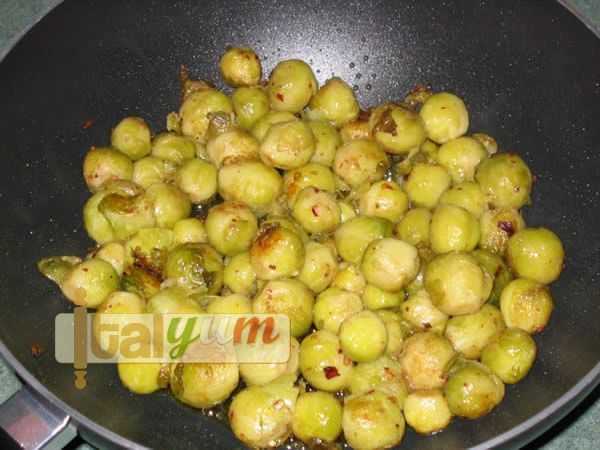 Sailor's sprouts (Cavoletti di Bruxelles con le acciughe)
This is a tasty way to present sprouts to your guests; it is a fusion between the countryside and sea that many would enjoy. Although the original version of this recipe requires broccoli instead of sprouts, and it is used for topping pasta, the version I propose is more used as a side dish. Remember that the chilli makes it very hot, so have a good glass of white wine at the ready to put out the fire!
Clicking on equipment pictures takes you to Amazon where you can buy the items. We get a small revenue share of anything you buy which helps keep the site running.
Ingredients
500

grams

(1.1 lb) Brussels sprouts

60

ml

(2 fl oz) Extra virgin olive oil

2

Cloves of garlic (halved)

15

ml

(1tbs) Anchovy paste

2

grams

(1 tsp) Crushed Chilli
Instructions
Wash, cut and trim the sprouts. Then, put them in slightly salted boiling water and simmer for about 15 minutes.

Drain the sprouts thoroughly.

Heat the olive oil (medium heat), add the garlic and sweat off for a couple of minutes. A wok is the ideal pan for this job.

Add the chilli and give a stir. Then move on to the next stage.

Give a stir so that it is dissolved in the oil.

When the anchovy paste is dissolved (it takes probably 30 seconds), you are ready for the next stage.

Pour the sprouts into the wok.

Cook for about 10 minutes. Meanwhile, give a stir every now and then, so that all the sprouts are well coated with sauce.

After 10 minutes, the sprouts start to turn to a golden colour. This is what you are waiting for!

Now, serve yourself and buon appetito!
Nutrition