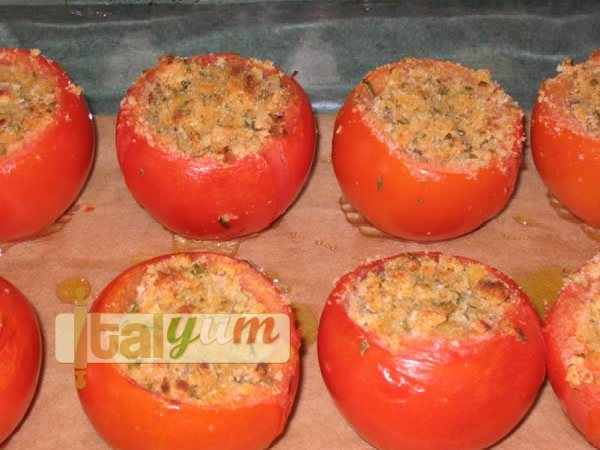 Stuffed tomatoes (Pomodori ripieni)
This very simple recipe requires few ingredients. You can use it as starter (1 tomato per person) or as a side dish (2-3 tomatoes per person). It is a common recipe in Italy, especially during the summer time when tomatoes are of the best quality and consistency. In my version I use rosemary because I think it gives a quite distinct flavour, but you could use parsley instead.
Clicking on equipment pictures takes you to Amazon where you can buy the items. We get a small revenue share of anything you buy which helps keep the site running.
Ingredients
8

Tomatoes (rounded – medium size)

A few sprigs of rosemary

2-3

Cloves of garlic (finely chopped)

1

Dry baguette (2 weeks old)

60

ml

(2 fl oz) Extra virgin olive oil

Salt and black pepper for seasoning
Instructions
Wash the tomatoes and then dry them.

Now to prepare the tomatoes

Take a small spoon with a sharp edge and carve into the tomato removing the core part. Do that over a bowl, so that all the tomato contents falls into the bowl.

Then, discard the hard part and leave the liquid part (juice with seeds) in the bowl.

Pour the liquid into a glass…

You should have enough liquid to have about half glass of tomato liquid.

Sprinkle each tomato inside with salt.

Turn the tomatoes hole down in a colander and leave them to rest for about 30 minutes.

Get the baguette and grater

Meanwhile, you can grate the baguette to make breadcrumbs.

Sprinkle the breadcrumbs with salt and stir.

Sprinkle with black pepper and stir.

Remove the leaves from the rosemary sprigs. The quantity of leaves is up to you, according to your taste, but of course do not over do it!

Chop the leaves (the thinner the better), add them to the bowl and stir.

Chop the garlic (the thinner the better), add it to the bowl and stir.

Add the half glass of tomato liquid and stir.

Add the olive oil and stir.

This is how it should look. The mixture should not be too wet, but still a bit crumbly.

Now, stuff the tomatoes, lay them onto an oven dish and put some drops (something like a tsp) of olive oil onto every tomato and then sprinkle the bottom with a little more oil. If you like, you can put some garlic cloves on the bottom of the oven dish to enhance with the garlic flavour.

Pre-heat the oven at 190ºC (375ºF) and cook for 30- 40 minutes or until the crumbs at the top become golden brown.

This is how it looks after 30 minutes.

When you think is ready, take the dish out of the oven and serve.
Nutrition