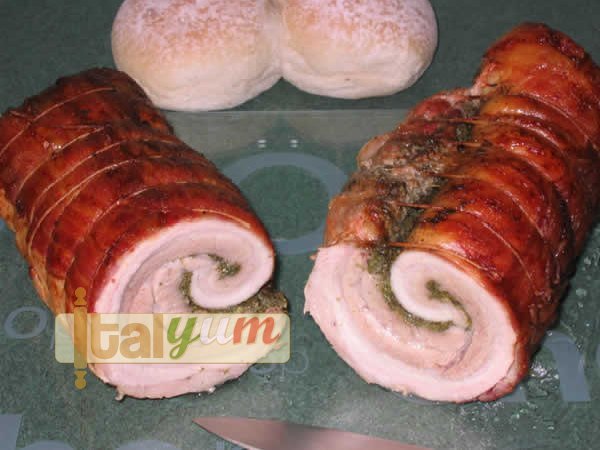 My porchetta
If you have the chance to travel in central Italy, especially throughout Lazio and Umbria regions, you may be lucky to find some roast pork shops selling porchetta. It is also something you can taste during the many villages feasts ("sagre paesane") arranged from the end of August to October. Porchetta is usually made of a pork weighting about 60-70 Kg (130-150 pounds); my kitchen oven is too small for that so I have elaborated my own version that more or less gives you the same results. It's ideal for picnics, it can be prepared for lunch or dinner accompanied with some vegetables and roast potatoes and can be eaten anytime you are hungry and looking for a treat!
One suggestion: get the meat from a good butcher who can assure you that the meat you are buying came from a good pork, reared outdoors and properly fed (no GM food, no antibiotics or other rubbish as unfortunately happens in the intensive farming).
Clicking on equipment pictures takes you to Amazon where you can buy the items. We get a small revenue share of anything you buy which helps keep the site running.
Ingredients
2.5

Kilograms

(5.5 lb) Boned flank (it is also streaky pork; at least here in Scotland)

20

grams

(3/4 oz) Rosemary needles

20

grams

(3/4 oz) Fennel leaves

2

Cloves of garlic

30

ml

(1 fl oz) White wine

10

grams

(1/2 oz) Fresh ground black pepper

10

grams

(1/2 oz) Salt

A glass with a small quantity of extra virgin olive oil

Note: you also need a few slices of streaky bacon, not shown in the photograph of the ingredients.
Instructions
Put rosemary, fennel, garlic, black pepper and salt in the blender and mix everything until you have a fine mixture.

Moisten the mixture adding the white wine.

Stir with a small spoon so that the wine is evenly distributed.

Spread the mixture over the surface of the pork flank (the inside side).

Roll the flank and temporary secure the roll tying a string in the right, centre and left.

Cover the top with streaky bacon.

Position the slices so that also the sides of the roll are covered.

Tie the roll with string.

Brush some olive oil all over the roll.

Position the roll over a large kitchen foil.

Wrap the roll in the foil paying attention to have the join of the foil upwards so nothing can leqak outside. Put the roll onto a large oven tray and cook for 3 1/2 hours. The first 30 minutes at 200 ºC (400ºF) and after swtich to 160ºC (320ºF) and continue cooking until the end.

After 1 1/2 hours, open the foil. You will find that in the bottom there is lots of fat. Baste the roll and then remove part of this fat. Leave only the fat you need for basting.

From now on baste every 20-30 minutes until the end.

After three hours you should get this! Before you proceed to the next step, make sure that the centre of the porchetta has reached 75ºC (167ºF); a probe thermometer will help.

Put the porchetta onto a chopping board.

Make as many slices as you like using a big sharp knife.

Put the slice onto a roll and spread some of the fat you have in the bottom of the tray over the slice and the other side of the bread roll.

If you have arrived at this stage you will not regret of having spent three hours looking after a piece of pork and probably you will be proud of having made something really special. The day I have prepared this, I had three bread rolls at 4 pm with 1/2 litre of red wine 🙂
Nutrition