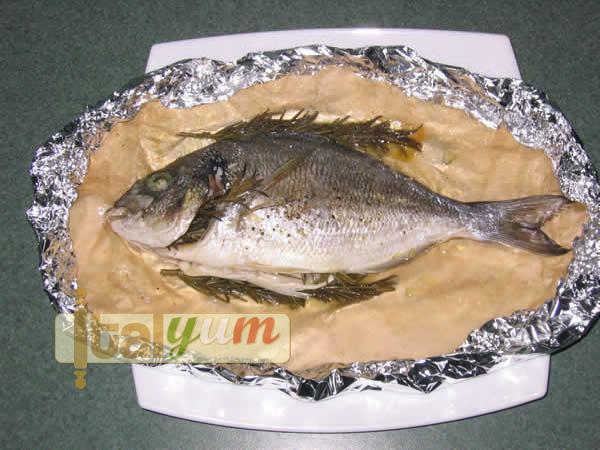 Sea bream wrapped in cooking foil 1 (Orata al cartoccio)
One of the easiest and most effective ways to cook fish is to wrap it in foil. All the flavours stay inside the wrap and work their way through the fish flesh! When cooking using this method, use simple ingredients and very fresh fish for best results. To stuff the fish, you can use different herbs (rosemary, wild fennel, thyme, parsley, bay leaf) but I suggest using one or two herbs at a time. The recipe I am presenting here requires very few ingredients, but you will be pleasantly surprised with the flavours.
Clicking on equipment pictures takes you to Amazon where you can buy the items. We get a small revenue share of anything you buy which helps keep the site running.
Ingredients
1

Sea bream of about 350 g (12 oz)

4

small rosemary sprigs

3

cloves of garlic

Some extra virgin olive oil (using a bottle is more practical)

Salt and black ground pepper for seasoning
Instructions
When buying the fish, ask your fishmonger to gut and scale it, but do not remove head and tail. At home, rinse the fish under fresh water and then pat it dry with kitchen paper. 

Cut a large piece of foil so that you can wrap your fish later. In the centre of the foil put a layer of greaseproof paper, roughly of the same length as your fish. Put some drops of olive oil on the greaseproof paper. 

Spread the olive oil all around the greaseproof paper (use your fingers or a little brush). 

Take the fish and season its belly starting with a drizzle of olive oil and then with salt and black pepper. 

Cut the cloves of garlic in half and put some of the garlic inside the fish belly. 

Stuff the belly with a couple of rosemary sprigs and add the remaining garlic. 

Put some rosemary inside the gills. 

Put the remaining rosemary outside, around the fish. 

Next, drizzle some olive oil over the fish.

Season the outside with salt.

Season the outside with black pepper.

The fish is ready for the oven.

Close the wrap, seal it folding the sides and put it onto an oven tray. Pre-heat the oven to 200°C (400°F).

When the oven is hot, put the tray into the oven and cook the fish for about 30 minutes.

Once the fish is ready, remove the top skin and drizzle with some good quality olive oil (the fish may be served on the wrap). 
Nutrition