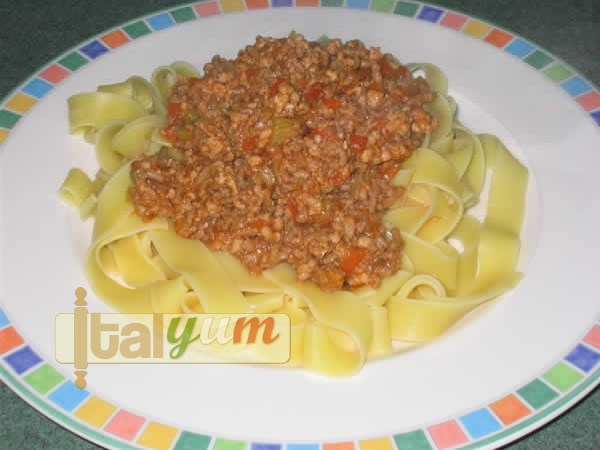 Tagliatelle bolognese (Tagliatelle con ragù alla bolognese)
Should we call it "spaghetti bolognese" or "tagliatelle bolognese"?In Italy, especially in Bologna, the use of spaghetti with ragù would cause an immediate heated discussion. In Bologna people would never use spaghetti because traditionally their local pasta is fresh egg tagliatelle (spaghetti belongs to the tradition of south Italy). Furthermore, all large pasta will retain the sauce better than spaghetti, this is why it would be better using tagliatelle or alternatively conchiglie, big rigatoni etc.Well, in my opinion, you can put your ragù sauce wherever you want as long as you cook the pasta al dente and the ragù is properly made.In north Europe, especially in the UK, this dish is known as spaghetti bolognese because people usually use the sauce to top spaghetti and I know many trattorias in Lombardy region of Italy where they regularly serve ragù with spaghetti to the lorry men stopping there for lunch, so it is not the case of being purist here and sending to prison those who use spaghetti instead of tagliatelle!
Note: the "ragù alla bolognese" recipe is featured in the meat section of the website.
Clicking on equipment pictures takes you to Amazon where you can buy the items. We get a small revenue share of anything you buy which helps keep the site running.
Ingredients
400

grams

Fresh egg tagliatelle

Ragù alla bolognese
Instructions
Nowadays you can find decent tagliatelle, imported from Italy, in most supermarkets. Alternatively, if you have time, make it on your own at home.

Cook the tagliatelle al dente and top it with your ragù (do not use too much sauce because the beauty of pasta dishes is in the texture of pasta first and the sauce is there as flavouring accompaniment).If you like, sprinkle the top with some freshly grated Parmesan cheese.
Nutrition