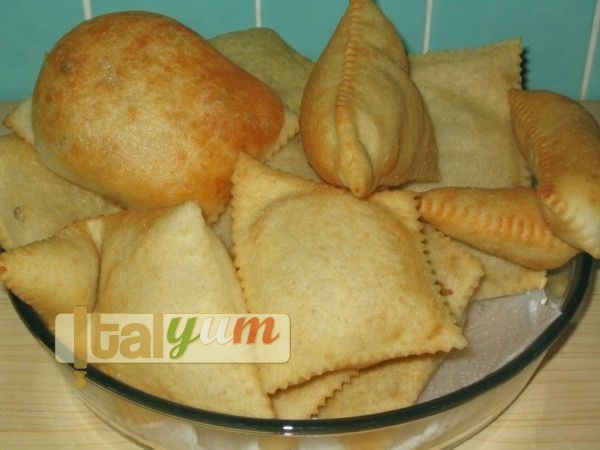 Fried dough parcels (Gnocco fritto)
This is another delicacy from the Emilia Romagna region of Italy, the homeland of tagliatelle and piadina bread. Gnocco fritto can have many different names depending on the province, so you may find that it is also called "torta fritta" (Parma) or "chisulino" (Piacenza). In north Italy it is quite common to have it as "antipasto" (starter), but increasing the quantity it can also serve for lunch. It is very easy to prepare and like piadina bread, you can have it with any sort of sliced cured pork meat (salame, pancetta, coppa, mortadella, culatello, prosciutto crudo, prosciutto cotto) or soft cheese (crescenza, stracchino, mozzarella, gorgonzola). I used to eat gnocco fritto in those old trattorias along the river Po`, during hot summer evenings, and of course you couldn't have it without half a litre of vino della casa…..
Clicking on equipment pictures takes you to Amazon where you can buy the items. We get a small revenue share of anything you buy which helps keep the site running.
Ingredients
300

grams

(11 oz) Plain flour

30

grams

(1 oz) Pork lard

15

grams

(1/2 oz) Fresh yeast

4

grams

(1 tsp) Salt

150

ml

(5 fl oz) tepid water (alternatively use 50% semi-skimmed milk and 50% water)

Sunflower oil for deep frying 
Instructions
Put the flour onto a working surface and make a little well. Put the pork lard in the centre of the well, then add the salt to the flour and finally dissolve the yeast into the glass of tepid water before adding the water to the flour. Mix everything together using your hands and work the dough for 10 minutes.

Using your hands will help melt the lard so that it evenly mixes with the other ingredients. The dough's consistency should be the same as for pizza or bread dough.

Once the dough is ready, put it into a container and cover with a kitchen cloth or film and let it to rise for a couple of hours.

After two hours the dough will have doubled its size. Now, it's time to put it back onto the working surface. Spread a bit of flour onto the working surface so that the dough will not stick to it during the following stage.

Using the rolling pin, make a large disc roughly 5 mm (3/16") thick.

Then, using a pastry wheel, cut some rectangles, size 10 x 8 cm (4" x 3 1/4") and don't be worried if you get some with different sizes, like 10 x 6 cm (4" x 2 1/2") or 10 x 7 cm (4" x 2 3/4"); it will work whichever way you do it. Also, if you want diamonds or squares instead of rectangles, make yourself at home!

Here we have a closeup picture of my rectangles. If you have small pieces left around the perimeter of the disc, with awkward shapes, keep them because they will work fine.

Meanwhile, you should have started to heat the oil up and here we need really hot oil. I suggest using sunflower oil at 180-190°C (355-375°F). A deep fat fryer would be a safer option, also because it would be easier to control the temperature).

The best thing to do is to fry one or two rectangles at a time so that the oil doesn't drop its temperature.

When you drop the rectangle into the hot oil you will see that it will stay in the bottom of the pan for just few seconds, then it will float and after few seconds again, it will inflate. Then, fry each side until they are golden in colour. Usually, it takes 30-40 seconds per side, if fried at 190°C (375°F), but it could be less if the temperature of the oil goes up, so stick to the golden colour thing rather than time.

This is the rectangle floating.

This is the rectangle inflating.

This is when the bottom side has been frying for about 40 seconds and now I am turning the gnocco on the other side.

This is the gnocco once turned and nearly ready to be taken out. Keep frying all your rectangles and put them into a large container where you have previously laid some kitchen paper. Also, see the video below.

Job finished! Now, take the cured meat or cheese and enjoy the gnocco fritto.

An easy way to eat the gnocco fritto is to put the meat or cheese in the centre of the gnocco and fold the gnocco on itself.
Nutrition