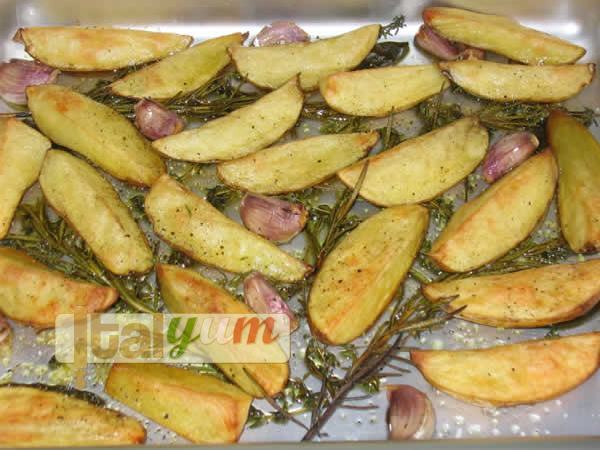 Roast potatoes Mediterranean style (Patate al forno aromatizzate)
This is a very straightforward way to prepare roast potatoes and its main characteristic is that we leave the potato skin on. It's full of flavours, very Mediterranean and ideal as accompaniment to roast lamb or mutton.
Clicking on equipment pictures takes you to Amazon where you can buy the items. We get a small revenue share of anything you buy which helps keep the site running.
Ingredients
7-8

Old potatoes (medium size)

A small bowl containing some extra virgin olive oil

1

Garlic head

2-3

Rosemary sprigs

2-3

Thyme sprigs

5-6

Sage leaves

A handful of coarse salt
Instructions
Wash the potatoes, removing any trace of soil (a small brush will do the job) and rinse under fresh running water.

Once the potatoes are cleaned, dry them using kitchen paper or whatever you have handy.

Slice the potatoes lengthways making about 5-6 slices with each potato.

Cut the rosemary sprigs into smaller pieces and spread these around with the garlic (unpeeled) and the sage leaves.

Sprinkle with coarse salt.

The tray is ready for the next step.

Dip each slice deeply in the small bowl containing the olive oil.

Place the slices onto the tray with the potato skin downwards.

Once you have laid down all the slices, sprinkle on some olive oil.

Now, with the oven set to 190°C (375°F), put the tray onto the top shelf of the oven and roast for about 50 minutes. Anyway this cooking time may vary depending on the type of oven so what you really need to do is to check when the potatoes are crisp and golden.

When they are ready, sprinkle with black pepper.

Finally, sprinkle with salt or with that salty herbs preparation you can find in the supermarkets and serve straightaway.
Nutrition