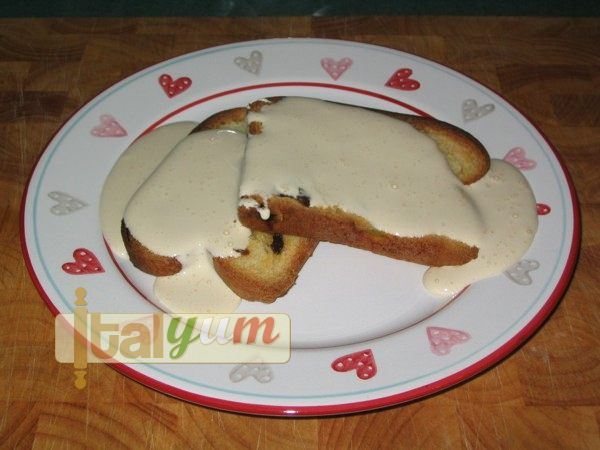 Panettone dessert (Fette di panettone con zabaglione caldo)
Between December and January, especially in Italy, every house has more than one panettone, or pandoro (for those who don't like sultanas and candied citrus), to devour. I live in the UK and most of the supermarkets sell excellent panettone from Italy, so also this year I have managed to buy a few boxes for my family and friends.
There are many ways to eat a panettone; I personally like to have panettone for breakfast, dipping it in a cup of milk and coffee, however here I am going to describe another way (good for left overs), by topping some panettone slices with "zabaglione caldo al marsala" (a warm sabayon prepared with marsala wine). It's a very simple recipe, with only 4 ingredients, but the final result will be a scrumptious  dessert, the perfect "pick-me-up", to enjoy anytime you feel the need for a special treat!
With the ingredients above you can make enough zabaglione to cover 4 slices of panettone. For this recipe description, I have used only a couple of slices for mere convenience.
Before you start, be sure you have large metal bowl and a pan in which you will fit the bowl on to its top, for the bain marie. You also need a whisk and a digital thermometer. If you don't have the thermometer, fine; just pay attention not to overcook the zabaglione because egg yolk starts to coagulate above 65°C (150°F).   
Clicking on equipment pictures takes you to Amazon where you can buy the items. We get a small revenue share of anything you buy which helps keep the site running.
Ingredients
Panettone slices (usually one slice per person)

4

Egg yolks (preferably from free-range organic eggs)

100

grams

(4 oz) Caster sugar

60

ml

(2 fl oz) Marsala wine
Instructions
Half fill the pan with warm water. Don't use boiling water otherwise the temperature of the egg mixture will rise too quickly.

Place the metal bowl onto the pan, making sure that the bowl does not touch the water inside the pan.

Add the marsala wine into the bowl.

Add the egg yolks into the bowl.

Start to combine the egg yolks with the marsala wine by using the whisk (30 seconds will be enough).

Gradually, add all the sugar into the bowl and at the same time start whisking. Whisk for few minutes, until the zabaglione becomes thicker, lighter in colour, resembling a pale yellow foam.

At the same time, keep an eye on the  zabaglione's temperature. Temperature should build slowly and gradually, with no sharp rises, from the original ingredients' room temperature to 60°C (140°F). The picture shows my zabaglione at 55°C (130°F), after about 5 minutes whisking; at that point, get ready to remove the bowl from the pan so that you do not go above 60°C (140°F).

Once the zabaglione has reached the temperature of 60°C (140°F), turn the cooker off. Quickly, lift the metal bowl from the pan, add a couple of glasses of cold water to the hot water inside the pan and place the bowl back on the top of the pan. keep whisking for another minute or two, until you reach a light consistency.

For this zabaglione we want a light consistency because a firm consistency will have more difficulty to penetrate the surface of the panettone slices.

Now, spoon the warm zabaglione over the panettone slices and let it stand for a couple of minutes before serving it.

Try this simple and rich pudding with a cup of coffee after lunch……
Nutrition