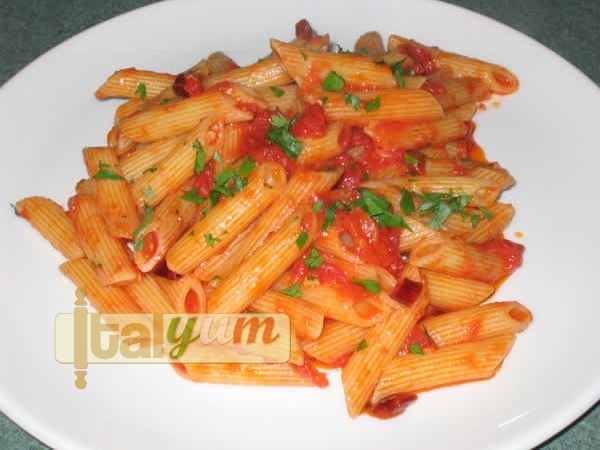 Fiery Penne Pasta (Penne all'arrabbiata)
Firstly, this fiery dish gains its name arrabbiata (angry) because of the use of chilli. When preparing this angry dish, feel free to use as much chilli as you want, it is up to you and to your mouth, to make it angry or very angry!
This is a recipe that has its origin in the central part of Italy, more precisely, it belongs to the Roman cooking tradition. As you can imagine, in Italy there are many versions of it because of the different regional cooking traditions that influence this famous dish; some are so adventurous that they have nothing to do with a proper arrabbiata (like the use of cream or anchovies).
I believe the best arrabbiata is in its minimalist form and I believe that an arrabbiata should not contain pork meat (usually bacon) because otherwise we would trespass on another famous Roman dish, the "Bucatini all'amatriciana", which rightly requires pork meat. The arrabbiata, in its simple way, is an aglio, oglio e peperoncino with the adding of chopped tomatoes, where fresh top quality ingredients should be used. Also, the adding of Parmesan or Pecorino Romano cheese is not recommended because it would overwhelm the typical flavour of this dish.
Clicking on equipment pictures takes you to Amazon where you can buy the items. We get a small revenue share of anything you buy which helps keep the site running.
Ingredients
400

grams

Penne rigate (ridged quill pasta)

90

ml

Extra virgin olive oil

2

Cloves of garlic (finely chopped)

2 or 3

Whole dried red chilli (roughly chopped) 

A small handful of flat leaf parsley (roughly chopped)

Salt for seasoning
Instructions
Chop the garlic and chilli.

Heat the olive oil in a sauté pan (medium heat) and add the chopped ingredients (garlic/chilli) into the pan.

Sauté for a couple of minutes or until the garlic becomes golden in colour.

When the garlic has turned to golden, add the chopped tomatoes.

Stir again for a few seconds.

Now, cook on medium/low heat for about 20-25 minutes, to reduce the sauce. After this time the suace will be ready.

A few minutes before the arrabbiata sauce is ready, boil your pasta and when the pasta is cooked al dente, drain it and add it into the pan containing the sauce.

Stir for a few seconds to coat the pasta with the sauce. Do this when the pan is still on the heat.

Then, sprinkle with chopped parsley.

Give a quick stir and serve immediately.
Nutrition